Viqua UV Lamp / Bulb for UVMax Model F, F+, F4, F4+, F4-50+, & Pro 15 Series - #602807
Viqua UVMax
#602807 Replacement Lamp
for UVMax Model F, F+, F4, F4+, F4-50+, & Pro 15
MSRP: US$165.00
US$140.00
You save: $25.00!!
Choose Option:
(0 Reviews)
Be the first to write a review.
Found a Lower Price? We price match comparable systems!
Request a Price Beat
Guaranteed Genuine Trojan UVMax #602807 Original Equipment Lamp. Don't be Fooled by Knock-Offs!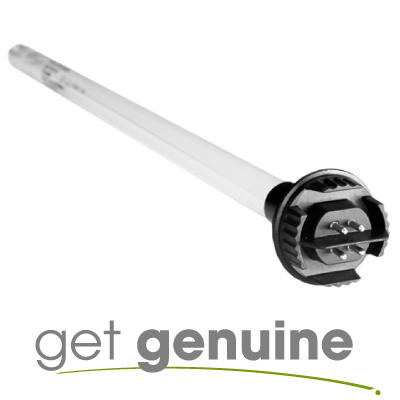 Description
Specifications
Related Products
Installation / Manual
Reviews
Why Genuine
This is a genuine Viqua UVMax OEM replacement lamp and should be replaced every 12 months for optimal sterilization and safety.
Viqua UVMax #602807 replacement lamps are designed only for use in Viqua UVMax UV sterilizers. We do not recommend that you attempt to use Trojan replacement lamps in models made by other manufacturers.
UVMax #602807 is the replacement lamp for the following models:
UVMax #602807 Specifications
Technical Specifications
Part #
#602807 (formerly #602729)
Lamp Length
39.75" (100.5cm)
Lamp Power
102 Watts
Lamp Life
12 Months
GTIN
00724084028070
How to change a UVMax #602807 Lamp
Turn off water supply valve to UV sterilizer
Turn on faucet elsewhere in the home to depressurize the system
Disconnect your UV system from power (unplug unit)
Allow system to cool for 5 - 10 minutes
Put on clean gloves
Remove dust cover by squeezing and lifting up
Lift lamp connector straight up
Remove UVMax #602807 lamp from system by unscrewing and lifting straight up
Insert new UVMax #602807 lamp into the system
Screw new UVMax #602807 lamp into the system
Push lamp connector down onto chamber
Attach dust cover and slide over top of chamber
Plug in UV system
System will beep
Hold reset button until system beeps and counter is reset to 365
Slowly open water supply valve to UV sterilizer
Check for leaks
Close faucet elsewhere in the home
Note: The UVMax UVMax #602807 is a fluorescent lamp and can be recycled at most hardware stores or your local hazardous waste facility.
Viqua UVMax #602807 Replacement Lamp
for UVMax Model F, F+, F4, F4+, F4-50+, & Pro 15 Reviews
Combo for Model F - Trojan UVMax

Excelent product, a pity it lasts only for one year and has to be replaced becoming somewhat expensive in that sense.
- Roberto
It is critical that only genuine Viqua brand original equipment lamps be used in your system. It has come to our attention that a number of Chinese manufacturers are making knock-off replica UV lamps. While they may physically fit in a Viqua system, they are NOT compatible. Testing of a wide range of these lamps has shown that many do not provide a safe UV dose or offer protection for the stated lamp life, and in some cases have even caused the failure of the ballast/controller and melting of the lamp harness.