Sterilight Temperature Management Valve
Part #440179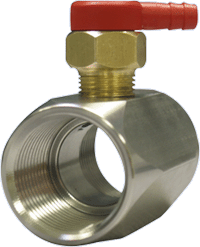 Discontinued
Sterilight Temperature Management Valve - #440179
The Sterilight Temperature Management Valve - #440179 has been discontinued. For an alternative product please see the UVMax CoolTouch Valve (1 Inch).
This item has been discontinued by the manufacturer. It has been replaced by the UVMax CoolTouch Valve (1 Inch), which offers a Superior Design and a Re-Calibrated Activation Temperature.
Temperature management valve for use on all Sterilight UV systems to reduce temperature build-up during long periods without water flow. Particularly recommended for systems incorporating Sterilume high-output UV lamps and UV intensity monitors including Cobalt Plus, Platinum, and Platinum Validated models.
The temperature management valve is fully automatic and is installed on the outlet port of the UV chamber. It discharges a small amount of water when the system reaches a preset temperature. This valve is perfect for applications with extended no-flow conditions, as it allows the lamp to operate within its optimal operating parameters. The valve assembly comes complete with 12' of drain line
Materials: 316 stainless steel
Connections: 1" FNPT

We only sell genuine Sterilight brand parts from Viqua.