Viqua / Sterilight S330-QL Lamp & Sleeve Combo
Viqua / Sterilight
Lamp & Sleeve Combo - S330-QL
MSRP:

US

$

154.00
Our Price: US$131.00
You save: $23.00
Found a Lower Price?
Request a Price Beat

Guaranteed Genuine Viqua / Sterilight S330-QL Lamp & Sleeve Combo. Don't be Fooled by Knock-Offs!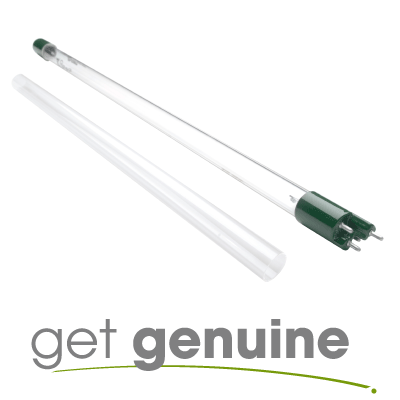 Description
Specifications
Related Products
Installation / Manual
Reviews
FAQ
Why Genuine
We are pleased to offer a complete selection of replacement lamps & sleeves for all Viqua / Sterilight ultraviolet (UV) sterilizers. Viqua / Sterilight replacement lamp & sleeve combo kits are designed only for use in Viqua / Sterilight UV sterilizers.
Sterilight S330-QL is the replacement lamp & sleeve combo for the following models:
Sterilight S330-QL Specifications
How to change a Sterilight S330RL Lamp
Turn off water supply valve to UV sterilizer
Turn on faucet elsewhere in the home to depressurize the system
Disconnect your UV system from power (unplug unit)
Allow system to cool for 5 - 10 minutes
Put on clean gloves
Squeeze tabs on lamp connector and lift straight up
Disconnect lamp connector from Sterilight S330RL lamp
Remove Sterilight S330RL lamp from system
Insert new Sterilight S330RL lamp into the system
Line up longest pin on lamp to shortest pin on lamp connector
Once the Sterilight S330RL lamp and lamp connector are attached slide assembly down towards chamber until you hear a click & it is attached
Hold down reset button on side of power supply to reset day counter & plug in UV system
Screen will display RSET
Slowly open water supply valve to UV sterilizer
Check for leaks
Close faucet elsewhere in the home
Note: The Sterilight Sterilight S330RL is a fluorescent lamp and can be recycled at most hardware stores or your local hazardous waste facility.
Viqua / Sterilight Lamp & Sleeve Combo - S330-QL Reviews
Other Similar Sterilight Lamp/Sleeve Combos Reviews
Advantage 8 UV Lamp

Product is fine; very disappointed that it's being discontinued.
- J.W.
Super

UV LAMP
- Jean S
Exactly what I needed

Original part at a good price, prompt delivery with no problems (fragile glass bulb arrived OK). I've used these guys several times, no problems.....
- Ron R
Sterilight Lamps,Sleeves, and Filters

Best service and prices available. Allow yourself a few extra days if you live in the eastern US. I will be a repeat customer.
- Ken

Good!! Exactly what i paid for!!
- Stephanie
Iíve lamp and tube

Very quick service! Very happy!
- Ed C.

Great product
- Richard
Handyman

Works great never had a problem.
- Bob Schaffer
UV is the way to go

The best way to purify water is with UV light.
- Jimmy Bollman
3 years running!

Received my annual Sterilite bulb and crystal recently. Excellent value and spot on service. Can't be matched in NL.
- Chris McCarthy
Very easy to replace

I bought this bulb and thought I would have to hire someone to install it. But the company sent me great videos to help me. I did it myself and it is working great. Product arrived fast and in perfect condition.
- Margaret

Works great
- John Check
UV Filter

Good follow up from last year. Reasonable price. Fast delivery. Good overall.
- I. Johnson
Replacement bulb and tube

Great responsive customer service. Received a cracked bulb and they shipped another one within 2 days. Will use them again.
- Rich
Timely and reasonably priced

Parts are genuine Viqua and shipment is timely. I appreciated the discount for a returning customer. Highly recommend this company.
- Dennis
Home owner

Great product!! No problem!!
- Bob Schaffer
Water softener parts

I ordered these parts to have them readily available when the current parts require replacement. I inspected them when they arrived and they were packaged very well and they were in the good shape. I have always been impressed with the degree that employees at Homes Plus are willing to go to help a homeowner service the products they sell.
- Robert Torraville
Great product great service

Easy install and fast shipping. Reminder every year to replace.
- Ian
Great price fast shipping

Good glad I found this company geniune product good price and fast shipping to USA lower 48
- Jeff
UV light

Very pleased with UV light and sleeve. This is the second time I have ordered. Fast shipping and excellent customer service.
- Alison
Fits

The product is what it should be in every aspect. Keep the prices low and I will continue ordering from your company. Thanks
- Richard Thompson
Viqua / Sterilght land and sleeve (s810-RL+ QS810)

Genuine parts and very good customer service. I count on you every year when my replacements are due.
- Kevin
Viqua / Sterilight Lamp & Sleeve Combo - S330-QL Customer Questions & Answers
It is critical that only genuine Viqua brand original equipment lamps be used in your system. It has come to our attention that a number of Chinese manufacturers are making knock-off replica UV lamps. While they may physically fit in a Viqua system, they are NOT compatible. Testing of a wide range of these lamps has shown that many do not provide a safe UV dose or offer protection for the stated lamp life, and in some cases have even caused the failure of the ballast/controller and melting of the lamp harness.