Sterilight S330ROL Lamp
Sterilight
S330ROL Lamp
MSRP:

US

$

147.00
Our Price: US$125.00
You save: $22.00
Found a Lower Price?
Request a Price Beat

Guaranteed Genuine Sterilight S330ROL Original Equipment Lamp. Don't be Fooled by Knock-Offs!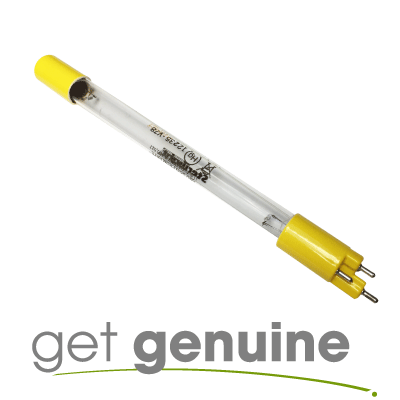 Description
Specifications
Related Products
Installation / Manual
Reviews
FAQ
Why Genuine
We are pleased to offer a complete selection of replacement lamps for all Sterilight ultraviolet (UV) sterilizers.
This 185 nm wavelength UV lamp is designed for ozone generation. It should not be used for disinfection.
Sterilight S330ROL replacement lamps are designed only for use in Sterilight UV sterilizers. We do not recommend that you attempt to use Sterilight replacement lamps in models made by other manufacturers.
Sterilight S330ROL is the replacement lamp for the following models:
Sterilight S330ROL Specifications
Technical Specifications
Application
Ozone Systems
Part #
S330ROL
Wavelength
185nm
How to change a Sterilight S330ROL Lamp
Turn off water supply valve to UV sterilizer
Turn on faucet elsewhere in the home to depressurize the system
Disconnect your UV system from power (unplug unit)
Allow system to cool for 5 - 10 minutes
Put on clean gloves
Squeeze tabs on lamp connector and lift straight up
Disconnect lamp connector from Sterilight S330ROL lamp
Remove Sterilight S330ROL lamp from system
Insert new Sterilight S330ROL lamp into the system
Line up longest pin on lamp to shortest pin on lamp connector
Once the Sterilight S330ROL lamp and lamp connector are attached slide assembly down towards chamber until you hear a click & it is attached
Hold down reset button on side of power supply to reset day counter & plug in UV system
Screen will display RSET
Slowly open water supply valve to UV sterilizer
Check for leaks
Close faucet elsewhere in the home
Note: The Sterilight Sterilight S330ROL is a fluorescent lamp and can be recycled at most hardware stores or your local hazardous waste facility.
Sterilight S330ROL Lamp Reviews
Other Similar Sterilight Lamps Reviews
Got two

Right On. My system creates ozone for drawing in the Pool. Wouldn't do without it. Local pool companies et al couldn't find a bulb replacement- and Home Water was so easy, perfect, right fit, good delivery etc. Will come back for other items to this outfit
- R Gee
Highly Recommend

My son and I both have this product and recomend it very highly.
- Brenda
UV Light & sleeve

Service was excellent. Products arrived on time and in Perfect Working Condition. Will continue ordering from this supplier.
- Louis
Sterility lamp

Ordered lamp, received as advertised, installed and working fine
- Richard D
Real replacement tube

I had purchased from another manufacturer a pair of supposed direct replacement tubes. These did not fit at all and one did not even strike. The one purchased here was an exact fit and worked perfectly well.
- Jean C
UV light

Sterilight S2Q-OZ
- GT
love my gravity-fed spring

No worries with my Sterilight UV system for 12 years. Thanks for making it easy to maintain. I don't trust knockoff brand replacement bulbs; my health is too important to risk for a small savings.
- JHarrell
Untitled

We have never had a problem with products purchased from your company.
- Cate
Untitled

Yes, I do like the Sterilight. I have used this product for, perhaps, 12-13 years.
- Judith
Untitled

Yes, I do like the Sterilight. I have used this product for, perhaps, 12-13 years.
- Judith
UV light purification system and sediment filter review

I have had only great experiences with your company and your team of employees and products. I've maintained several systems here on Salt Spring Island, and I always recommend "HomePlus Products Inc. " If you looking for a water technician/sales rep on Salt Spring Island, I'd be very happy to discuss taking on such a position.
- Jonas P
Sterilamp

We ordered the lamps, they came Canada Post. We installed and they are fine. As long as there is a discount the price is right. We did have to order 2 to qualify for free shipping which is an important saving.
- Bill W.
S810RL UV replacement lamp

Product came promptly, easy to install with great directions. No problem done in 10 minutes.
-

Easy to install , clear directions
- Jack R.
What I asked for

Received exactly what I asked for. Good quality.
- Sonya S

uv bulb
- Floyd S
very good product

The product works well and operates as it's suppose to. The shipment was very fast and the price was unbeatable.
- chrision
UV Light works as expected

Purchased a UV light. buying brand name at great rates is the way to do don't go with the cheap fakes because you get what you pay for. i'll be coming back here next year.
- Rick F
Sterilight lamp

Good price unit arrived when promised. Overall good customer service.
- Craig

Product was as described and was shipped quickly Very satisfied with the service
- T Hurley
Lamp

Excellent product!! Delivered as promised
- Wayne
Viqua / Sterilight - Replacement Lamp - S463RL

The UV light was fine, it is not the first time that I bought lights from you. I have also bought the glass sleeves for the water system from you. My only complaint is that the O rings that come with the sleeves are not wide enough for my system. The small OŁ rings are for systems made after 2014. I have had to use plumber's tape.
- James M.
UV replacement lamp

- Daryll Driscoll
Great service

I've always received excellent service from Home Water Purifiers. We recently had to order a replacement ballast for our UV filter on Grant's recommendation. It arrived promptly and works perfectly.
- Paul McCurdy
Great price

Product is much cheaper than my local supplier and delivery is great !
- Pierre
UV Light works as expected

great deal and fast delivery
- Rick F.
Viqua replacement lamp

Great customer service, helped me get the lamp i needed, they priced matched and then offered a better price than the other place I was looking at. Product shipped quickly and it was exactly what I needed and was easy to install. will use these guys again.
- Jaime
great product, great price, fast delivery

quality product and a great price. i will continue to order my home water parts from here.
- Rick F.
water purifying lamp

Thank you for selling this to the public instead of just to expensive plumbers. Would have appreciated instructions for installation.
-
Always satisfied with HomePlusProducts

I have purchased my Sterilight products from HomePlusProducts for several years and am always satisfied with the service and have confidence it is the valid manufacturers product
- Dennis
S810RL

Tr├Ęs bien. Merci
- Pierre Ladouceur
Lamp replacement for water

Good product and fast delivery. Ty
- Dana Holmes
Great light

Works as advertised and arrived safely
- J. Doyle
water filter UV light

The products are always of high quality and the service is fast friendly and very professional. keep up the good work!!
- Wayne C.
UV lamp

Ive was served with great care in the order and delivery of the UV lamp. Thank you.
- Marc-Andr├ę Soucy
ViquaSterilight

Excellent Product Fast delivery and service
- Trevor Hurley
UV is the way to go

The best way to disinfect drinking water is with UV light.
- Jimmy Bollman
S810RL UV Light

Product arrived very quickly and was packed so well to prevent any breakage. Highly recommend HomePlusProducts
- Brent
UV LAMP

Works as expected. Will buy from store again.
- Fred
Sterilight replacement lamp

peace of mind, exceptional quality and material. Canadian made­čĹŹ­čĹŹ
- Norm Groblacher
Replacement UV lamp

Device arrived from Canadian supplier within a week. It turned out to be the wrong model (not sure if it was my fault or theirs). However when informing them they shipped out the right model within a day and it arrived in a week. The first item has been returned to their facility. I will order my next lamp from them next year!
- Daniel True

Great service, excellent prices and timely delivery.As a loyal customer a discount is offered.I will continue to use this company.
- Craig Bowes
Viqua Sterilight Replacement Lamp

Great product -- great price
- Bill Turnbull
Viqua Sterilight

Purchased bulbs from these folks over past few years. Great prices, ships immediately. They are in Canada, but mail is fast. Bulbs well-packed. Much cheaper than local stores too
- Tia V.

Products and service were excellent
- Randy
great product, great price, fast delivery

Product arrived as expected. will def shop here again.
- Rick F
Utmost Quality

I have been given loyalty discounts on several products ordered. The discounts came as a welcome surprise, and I can safely say that without the discounts I would continue to purchase here due to the quality of merchandise, the incredibly responsive service and great price.
- Chris McCarthy
Just What I Needed

Excellent product...works perfectly with my filtration system. HomePlus had an extremely competitive price, and their service is excellent. I actually received this lamp before I expected it to arrive! Will definitely purchase from them again.
- Mike Harris
UV light bulb replacement

I haven't used it yet. That'll happen in January. Decent price and quick delivery
- Angelo
Great product, fast delivery!

Great product, fast delivery!
- Eric
Excellent service

Product as described and good price. Perfect fit.
-
great product

this is exactly as I expected. fast great service too
- marc simard

Great service thanks!
- Jorg C
Great price

Much cheaper than local sources and delivery within a few days. We will continue to order from here
- Cathy L
Viqua lamp

Excellent
-
Viqua

Works great! Just had my water tested before and after the UV lamp, and it was not potable before the lamp and it was potable after the lamp.
- Tom
Lamp purchace

I am very pleased with this purchase.I ordered it delivery was prompt,price with my discount was unbeatable.I have been dealing with this company for several years and have never been let down.
- Craig Bowes
Genuine

Genuine product, works perfectly. Safely shipped
- William
Easy to install

Replacement tube was easy to install....would have given it a 5 but like all these units price of tube was high.
- Stephen Baker
Always the best

Always the correct replacement. High quality,, including packaging and shipping
- William
The place to buy from!

This is the ONLY place to buy your Viqua bulbs from. I shopped around. Great communication and pricing FAST shipping. They even UNDERSOLD me as I was asking for a quantity of bulbs that I would have to store PAST warranty date. They recommended I not do that (smart advice). So, buy from them on HONESTLY alone ( great communication, price and fast shipping). They are my go-to people for Viqua bulbs!
- Ranger

I have been buying the Viqua Sterilight UV bulbs from Home Plus products for many years and am always satisfied with the pricing and service
- Dennis
UV light

Completely satisfied. I will continue be a returning customer and keep their contact saved in my phone.
- Glenn Logan
Very good lamp

This is a very good sterilizer. I buy one annually as it needs changing once a year. I have been doing this for years.
- Richard Kozlowski
VIQUA / Sterilight - Lamp - S810RL

As always, great service, excellent product, good price, quick delivery and well packaged
- arjo
Great Service

Always prompt delivery... and once when part of my order arrived damaged, Homeplus quickly sent a replacement.
- Mark
S410RL-HO Replacement UV Lamp

This is the 3rd year I have ordered from HomePlusProducts. Product is working as expected. A wonderful company. Customer service team has always be kind & helpful & email correspondence is always top notch. As in prior years, product received in perfect condition & in a timely manner.
- Pamela
Sterilight S330ROL Lamp Customer Questions & Answers
It is critical that only genuine Viqua brand original equipment lamps be used in your system. It has come to our attention that a number of Chinese manufacturers are making knock-off replica UV lamps. While they may physically fit in a Viqua system, they are NOT compatible. Testing of a wide range of these lamps has shown that many do not provide a safe UV dose or offer protection for the stated lamp life, and in some cases have even caused the failure of the ballast/controller and melting of the lamp harness.