Pro Sani-System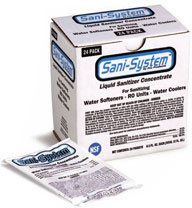 Liquid Sanitizer Concentrate
Sani-System is the only EPA & NSF approved sanitizer.
Sani-System is the only EPA & NSF approved sanitizer for use in water softeners, reverse osmosis units and water coolers. Sani-System is proven to kill 99.9% of harmful bacteria without the use of chlorine, oxidizers or acids that can harm the system equipment parts and resin. Each premeasured packet is a concentrated formula that sanitizes equipment in just 60 seconds. It is available in cases of 0.5 fluid oz packets.
APPLICATIONS:
Water Softeners: Mix a solution of 2 cups water and one packet and pour contents directly into brine well. If no brine well is present, pour in bottom of salt tank when salt is low. Manually regenerate softener.
Reverse Osmosis (RO) Units: Shut off water supply to RO unit and remove membrane and all filters. If applicable, turn off pump. Pour entire contents directly into main housing unit and fill with potable water. Let sit for 60 seconds then immediately flush three times and ensure all residuals have been eliminated.
Water Coolers, Pressure Tanks & Ice Machines: Mix entire contents with 4 gallons of water. Pour solution into hand sprayer. Spray desired sanitization location and leave saturated for 60 seconds. Rinse and flush system with potable water to assure solution is rinsed thoroughly from system.
Model
Size / Weight
# per case
Case Pricing
Sani-System
Part #SS24-WS
0.5 oz
24