Review and Comparison of UV Sterilizers:
Viqua UVMax D4 Premium & UVMax D4-V vs Pelican™ (1) PUV-8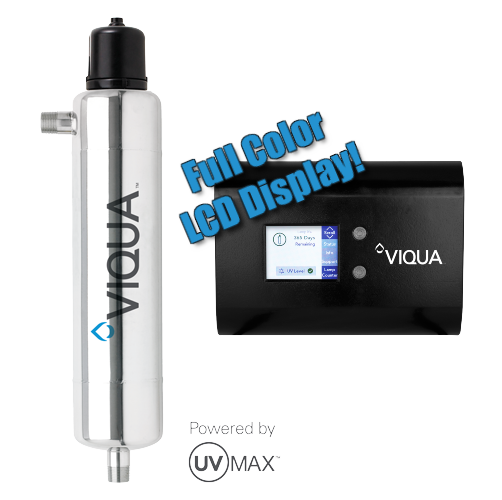 We are often asked by our customers to compare various competitors' products to the systems that we offer. One such comparison that we asked to make is between the very popular Viqua UVMax D4 Premium, the UVMax D4-V, and the Pelican™ (1) PUV-8. This is a relatively simple comparison to make as all three units are essentially identical in all material respects other than in name and validation. They are all manufactured by VIQUA, the world leader in residential and light commercial UV disinfection technology. The Pelican™ (1) PUV-8 is simply a private-label version of the VIQUA UVMax D4-V - these 2 models are essentially identical other than in name. The D4-V is a third-party validated version of the D4 Premium.
The UVMax D4 Premium is one of our experts' top UV choices for residential applications. It is based on a very robust, yet affordable platform which includes a UV controller/ballast with constant power output technology which ensures proper disinfection even when the power supply fluctuates. It has a wide range of convenience features including large color LCD display and an excellent lamp replacement reminder system. It is also very compact and very powerful for its size.
As all 3 of these units are essentially the same, all of the same attributes are true of the VIQUA UVMax D4-V and the Pelican™ (1) PUV-8, however, the D4 Premium is much more popular due to its lower price.
So what's differnet? The UVMax D4-V and the Pelican™ (1)PUV-8 are independently validated under NSF/ANSI Standard 55 Class B, a product performance standard which confirms that the UV system provides supplemental bacteria treatment of water that previously met public drinking water standards. There are a very limited number of jurisdictions that require this validation (Quebec, Canada for instance). Unless you live in one of these jurisdictions and require the validation to comply with regulations, you can confidently choose any 3 of these models as they all put out exactly the same amount of UV dosage under the same conditions. A small benefit of the UVMax D4-V and the PUV-8 is that they come complete with an 8.9 GPM flow restrictor that ensures that you cannot exceed the NSF-validated flow rate. The same flow restrictor can be purchased as an option with the UVMax D4 Premium if you want this added protection. When puchased with the optional flow restrictor, D4 Premium is still cheaper than both the D4-V or PUV-8.
The chart below offers a detailed comparison of specs and features.
Please Note: Comparison pricing information from our competitors is updated frequently (last updated on October 22, 2018), and reflects prevailing discounts and sales promotions generally available to consumers at the time of purchase. Competitor pricing is subject to change, therefore our comparison pricing may not reflect today's pricing. We encourage consumers to do their own price comparison at the time of purchase if this is important to them.
VIQUA UVMax
D4 Premiun
VIQUA UVMax
D4-V
Pelican™ (1)
PUV-8
Price:
US$829.00

US$829.00

US$711.90
Manufacturer:
VIQUA, A Trojan Technologies Company (Made in Canada)
Warranty:
10 years on chamber, 3 years on controller/ballast, & 1 year on UV lamp
Free Shipping?:
90 Day Price Protection?:
NSF-55 Class B Validation:
Flow Restrictor:
Optional - US$103.00
Color LCD Display:
Lamp Replacement Reminder:
No Tools Maintenance:
Constant Current Power Supply:
Lamp Failure Alarm w/ Mute:
Max. Flow Rate at UV Dose of 40mJ/cm2 at 95% UVT:
9 GPM (34 LPM)
9 GPM (34 LPM)
9 GPM (34 LPM)
Max. Flow Rate at UV Dose of 30mJ/cm2 at 95% UVT:
12 GPM (45 LPM)
12 GPM (45 LPM)
12 GPM (45 LPM)
Max. Flow Rate at UV Dose of 16mJ/cm2 at 70% UVT:
8.9 GPM (33.7 LPM)
8.9 GPM (33.7 LPM)
NSF/ANSI 55 Class B Validated
8.9 GPM (33.7 LPM)
NSF/ANSI 55 Class B Validated
Max Power:
50 Watts
50 Watts
50 Watts
Lamp Power:
40 Watts
40 Watts
40 Watts
Chamber Size:
20.5 x 4" / 52 x 10cm
20.5 x 4" / 52 x 10cm
20.5 x 4" / 52 x 10cm
Inlet/Outlet:
3/4 Inch NPT
3/4 Inch NPT
3/4 Inch NPT
More Info:
MORE INFO on D4 Premium
MORE INFO on D4-V
(1) "Pelican™" is a trademark of PelicanWater.com, An Enviro Water Solutions, Inc. Company