Radon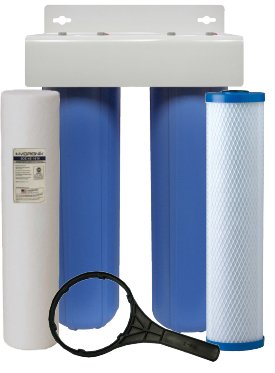 Remove Radon with a

WH2-HF Premium 5 Micron Whole House Carbon Filter Package
MSRP:

US

$

476.00
Our Price: US$316.95
You save: $159.05
Found a Lower Price?
Request a Price Beat


Lowest Price Guaranteed!
If you find a lower price on this product call us or Click here to request a price beat.
Radon is a naturally occurring, colorless, odorless, water-soluble gas produced by the radioactive decay of radium. Radium is a radioactive metallic chemical element found in pitchblende and other uranium minerals. It is common in the earth's crust. Radon breaks down in a natural, spontaneous process or "decays" to form other elements. All rocks contain some trace uranium concentrations. The highest concentrations are in plutonic rocks, such as granite. Because the source of radon is the radioactive decay of uranium, higher radon amounts are commonly detected in areas underlain by granites, dark shales, light-colored volcanic rocks, sedimentary rocks containing phosphate, and metamorphic rocks. High levels of radon have been found in all 50 states and most Canadian provinces.
Radon is a well known carcinogen or cancer-causing chemical. If your water tests reveal the presence of radon, you should have your home's air tested as well. A quality air purifier containing activated carbon filters can reduce your airborne exposure to radon. We recommend a good quality air filter with a large bed of activated carbon including the Austin Heathmate HM400 Air Cleaner or Airpura Air Purifier.
Radon can be removed from water by activated carbon filtration. A continuous monitoring program should be undertaken to ensure radon removal goals continue to be met as the removal rates and filter/media life may be unpredictable. Used filter cartridges or media may require special handling precautions due to the concentration of radon.
For best results, use the largest volume of carbon possible and reduce flow rates to ensure a high contact time between the radon and the activated carbon.

We recommend the following treatment options for radon: