Pentek AS-CK Replacement Filters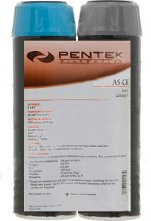 Also branded as: Pentek / Ametek / Culligan / Kleen Plus / Omni / Sears / Ace Hardware / American Plumber / MasterPlumber TrueValue / Flotec
The Pentek AS-CK replacement water filter set includes two filters for the AS-301E three stage arsenic reduction water filtration system. These filter cartridges reduce iron, manganese, hydrogen sulfide, arsenic III and arsenic V and have a capacity or filter life of approximately 1,000 gallons. The EPM-10, which is the third filter for the AS-301E system, is not included in this set.
The Pentek AS-CK filter set contains one black cartridge with blue cap for iron, manganese and hydrogen sulfide reduction as well as one black cartridge with a black cap for arsenic reduction. This filter set is also branded as Ametek, US Filter, American Plumber.
Specifications:
pH Range: 6.5-8.5
Temp Range: 40F - 100F
Reduces: Arsenic III and Arsenic V, Iron, Manganese, Hydrogen Sulfide
Capacity/filter life of 1,000 Gallons at 0.6 GPM
The Pentek AS-CK filters should be changed at least once per year. It should be noted that filter life will be affected by water quality and usage.
Please note: The manufacturer of this item (Pentek AS-CK Replacement Filter Package) has stopped manufacturing this filter set. Until further notice, we are unable to take any more orders for these replacement filters. For more information on potential alternatives, please call us toll free at 1-866-376-2690. We apologize for the inconvenience.