Pro Neutra 7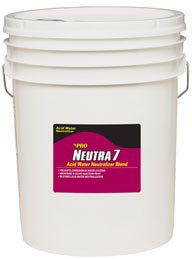 Acid Water Neutralizer
Neutra 7 helps prevent corrosion in water systems.
Pro Neutra 7 is a proprietary alkaline compound which neutralizes acid water in potable systems and keeps the injection point clean of build-up. This helps eliminate corrosion from piping, pressure tanks, water heaters and fixtures. A Neutra 7 solution injected into a water system will neutralize acid water and prevent corrosion.
APPLICATIONS:
Acid Water Neutralization: The feed rate depends on the acidity of water. Proper dosage is reached when the pH of the treated water is between 7.0 and 8.0. Follow procedure for injecting soda ash into your water system by the chemical feed pump manufacturer or supplier.
Tannin Water Softener Cleaning: Mix 1 cup of Neutra 7 with 1 quart of water and pour into salt storage tank on a weekly basis.
Model
Size / Weight
Case Pricing
Neutra 7
Part #SP40N
40 lb container
Customer Questions & Answers