Hydrotech 41400009 Carbon Block Filter
carbon pre and post-filter for most Hydrotech 3 and 4-Stage Reverse Osmosis (RO) Systems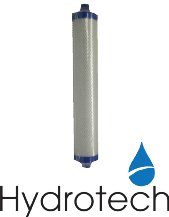 Hydrotech
41400009 Carbon Block Filter
MSRP:

US

$

33.00
Our Price: US$23.21
You save: $9.79
Found a Lower Price?
Request a Price Beat

A carbon block filter designed specifically for Hydrotech reverse osmosis systems.
Applications:
Primarily used as a carbon pre-filter and post filter (stage 2 and stage 4) in Hydrotech 4-Stage reverse osmosis systems as well as the carbon post filter in the Hydrotech 3-Stage reverse osmosis system.
Removes:
Chlorine, bad tastes and odors (may remove some other organics and VOCs)
Replacement Frequency:
Pre-Filter: Every 3-6 months depending on water conditions; Post-Filter: Every 12 months
Material:
Activated Carbon Block
Size:
1 7/8 x 10 1/4 inches