HM Digital Quick Check TDS/Conductivity Monitor - QC-1A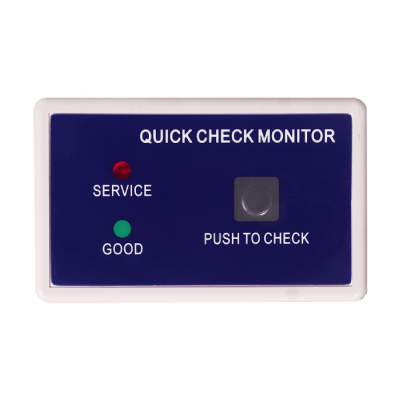 Description
Specifications
Related Products
Installation / Manual
Reviews
This basic EC/TDS monitor provides an entry level monitor with its "Push-to-Check" button giving you an instant water quality check! With the push of a button, the unit displays a green or red light, indicating good water quality or service required, respectively.
HM Digital Quick Check TDS/Conductivity Monitor - QC-1A Features:
Eight programmable set points (by dip switch).
Bright LED lights
Simple to use - Quick Easy Installation
Factory Calibrated to 100 ppm NaCl. Re-calibration is unnecessary.
Comes equipped with Mur-lok® Quick-Connect T-fitting (1/4 inch standard, also available in 3/8" or 1/2")
Excellent Reverse Osmosis (RO) or Deionization (DI) monitor
QC-1A Specifications
Technical Specifications
TDS/EC Range:
0-5000 ppm (10,000 µS)
Max. Set Point:
50 ppm (100 µS)
Accuracy
±3%
ATC:
No
Cable Length:
24.5" (including sensor)
Fittings
1/4"
Power source:
4 x 1.5V button cell batteries (389-A) (included)
Battery life:
Approx. one year
Size:
7.6 x 2 x 4.7 cm (3 x .8 x 1.9 in.)
Weight:
39.7 g (1.4 oz.) not including sensor
To install the QC-1 with a water purification or filtration system:
Ensure the white sensor is fully inserted into the T-fitting.
Orient the sensor pins so that they are perpendicular to the direction of the T. (You should be able to see both pins if you look through the fitting.)
Disconnect the water source.
Snip the product (filtered) water tube at a point between the filter and a dispenser.
Insert the two snipped ends of the water tube into the T fitting.
The QC-1 can be attached anywhere on or near the water
system using the Velcro tape.
Reconnect the water source.
HM Digital Quick Check TDS Monitor - QC-1A Reviews
There are currently no reviews for this product.
Be the first to
write a review.