HM Digital Inline LCD Dual TDS Meter - DM-2A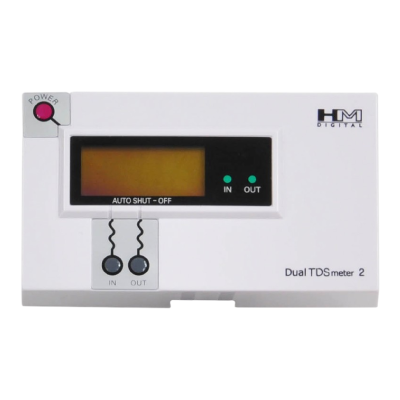 Description
Specifications
Related Products
Installation / Manual
Reviews
The DM-2 is a commercial grade monitor measuring TDS feed (input) water vs. product (output) water of a water filtration system at any time. With its shielded cables and diagnostic messaging this robust device is ideal for Reverse Osmosis (RO), Deionized water (DI) filtration systems that work well in applications such as drinking or potable water, Water treatment, Aquariums, Hydroponics and many more.
HM Digital Inline LCD Dual TDS Meter Features:
Highly efficient and accurate due to its advanced microprocessor technology
Displays TDS levels of the Feed Water and Product Water with in & out electrode probes
Auto-Off function conserves battery power (Shuts off automatically after 3 minutes)
Factory Calibrated: our meters are calibrated with a 342 ppm NaCl solution. The DM-2 features digital calibration.
Diagnostic error messaging
Shielded sensor cables
Comes equipped with 1/4 inch Mur-lok® Quick-Connect T-fittings (Also available with 3/8" or 1/2" fittings)
DM-2A Specifications
Technical Specifications
Range:
0-9990 ppm Dual Range - Measures from 0-999 ppm, with a resolution of 1 ppm. From 1000 to 9990 ppm, the resolution is in 10 ppm increments, indicated by a blinking 'x10' image.
Accuracy:
±2%
Conversion Factor:
NaCl (avg. 0.5)
Cable Length:
46" (including sensor), shielded cables
Sensor:
Dual, 1/4" diameter for quick-connect fittings (model SP-3, included)
Digital Calibration:
Digitally factory calibrated to NaCl 342 ppm. Re-calibration can be done separately for each line.
Power source:
2 x AA batteries (included)
Battery life:
Approx. 2 years
Size:
11.6 x 6.8 x1.8 cm (4.6 x 2.6 x .7in.)
Weight:
201.3 g (7.1 oz.)
The DM-2 can be configured in a variety of ways, depending upon your needs. Typically, the IN line (line 1) is connected to the source (tap) water, and the OUT line (line 2) is connected to the product (filtered) water. The DM-2 can also be configured with multiple systems, such as an RO/DI combination, as well as with HM Digital's Single Inline TDS Monitor (model SM-1).
To install the DM-2 to a water purification or filtration system:
Insert the white sensors fully into the bottom of the T-fittings.
Orient the sensor pins so that they are perpendicular to the direction of the T. The water should flow over both pins equally. (You should be able to see both pins of you look through the fitting.)
Disconnect the water source.
Snip the source (tap) water tube at a point between the source and the filter. Insert both ends of the tube into the top of the IN line sensor's T-fitting.
Snip the product (filtered) water tube at a point between the filter and a dispenser. Insert both ends of the tube into the top of the OUT line sensor's T-fitting.
The DM-2 monitor can be attached anywhere on or near the water system using the mounting bracket (which can be secured by screws or the adhesive tape).
Reconnect the water source. Your monitor is now ready for use.
NOTE: Consult a professional plumber for specific bracket or connection questions
HM Digital Inline LCD Dual TDS Meter - DM-2A Reviews
There are currently no reviews for this product.
Be the first to
write a review.