Harmsco WBC WaterBetter Band Clamp Housings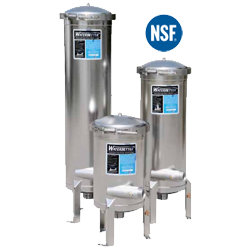 Nearly identical to their WB line, the WBC line is also available in three separate sizes with a huge variety of compatible cartridges. Harmsco's NSF-61 validated WBC housings feature a band clamp assembly for closure and provide a variety of solutions for filtration needs ranging from 50 GPM to 150 GPM (for most cartridge types). Their WaterBetter single cartridge design allows for both easier filter changes and increased filter life, thus lowering operation costs. This housing's options allow one to choose between 304 or 316 stainless steel and a CPVC or stainless steel standpipe for all models.
A chosen housing for commercial or residential drinking water, industrial waste water treatment, and reverse osmosis pre-filtration (among many other applications), this electropolished line also features a tangential entry and Harmsco's patented upflow design.
durable stainless steel construction
used in commercial settings
max flow rates from 50 GPM to 150 GPM for most cartridge types
available in either 304 or 316 stainless steel
housings can function to a maximum of 200 F (93 C) with stainless steel standpipe and high temp cartridges
rated to a maximum pressure of 150 psi
NSF-61 validation

Model
Height
Diameter
Inlet/Outlet
Flow Rate
Cartridges
Lowest Price
Guaranteed
FREE SHIPPING!