Harmsco HUR 16x170FL Swing Bolt Housing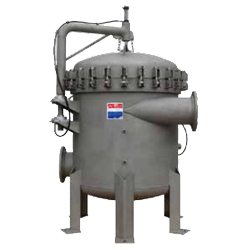 Harmsco
HUR 16x170FL Stainless Steel Housing
Please call 1-866-376-2690 for price and availablity.
(0 Reviews)
Be the first to write a review.
Part #:HUR 16x170FL
SBHF housings are the high flow version of the standard SB line. Just as versatile and high-tech, the SBHF brings Harmsco's Hurricane technology to new levels with exceptional maximum flow rates. The HUR 16x170FL is capable of handling flow rates at or below 2400 GPM (for most cartridge types). With the massive selection of Hurricane cartridges at their disposal, these units give a number of filtration solutions for industrial and municipal applications that require high flow rates. Harmsco's revolutionary Hurricane technology promotes a rotational flow for more equal distribution of contaminants across filter media, combining cartridge filtration with cyclone separation. The NSF-61 certified SBHF series are designed to meet ASME standards and allow one to choose between 304 or 316 stainless steel for all models.
A chosen housing for municipal drinking water, industrial waste water treatment, and ground water remediation (among many other applications), this matte finished line also features a swing bolt closure system with a manual hydraulic lift and Harmsco's patented upflow design.


wide variety of filter cartridge types
Hurricane cartridge design makes for easy filter maintenance
manufactured with a 2" NPT drain
coated housings for superior chemical resistance available here

Features & Specifications:
Material:
304 Stainless Steel, standard
Cartridges:
Sixteen 7-3/4" x 30-3/4"
Inlet / Outlet:
12" Flange
Temperature Rating:
up to 250F (121C)
Maximum Pressure:
150 PSI
Dimensions:
116-1/2" x 66" (2959 mm x 1676 mm)
Flow Rate:
up to 2400 GPM (9085 LPM)
Floor Space:
18.7 ft2