Harmsco HMC Multi Cartridge Housings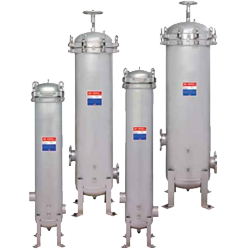 Built to ASME standards, the HMC series offers a wide array of solutions for filtration needs between 150 and 1400 GPM. This housing features multiple hold down plates which allows it to use DOE, 222/Fin, and 222/Flat type filter configurations. Options for this housing allow one to choose between 304 or 316 stainless steel and bead blasted or electropolished finish. ASME code u-stamp is also available.
A chosen housing for reverse osmosis prefiltration, high purity water, and ground water under direct influence (among many other applications), the HMC also features two gauge ports and two separate drains (one for incoming fluid, one for outgoing fluid).
durable stainless steel construction
used industrial and municipal settings
accepts three different cartridge styles
available in either 304 or 316 stainless steel
housing functions to a maximum of 250 F (121 C)
rated to a maximum pressure of 150 psi
two gauge ports for easy readings

Model
Height
Width
Max Flow Rate
Inlet/Outlet
Lowest Price
Guaranteed
FREE SHIPPING!

HMC-5

55.4"
13"
150 GPM (508 LPM)
2" FNTP

HMC-7

56.9"
14.4"
200 GPM (757 LPM)
2" FNTP

HMC-12-FL

66.9"
18-7/8"
300 GPM (1135 LPM)
3" Flange

HMC-21-FL

71.9"
23"
600 GPM (2271 LPM)
4" Flange

HMC-36-FL

76.1"
27-1/2"
1000 GPM (3785 LPM)
6" Flange

HMC-51-FL

78"
31-5/16"
1400 GPM (5299 LPM)
6" Flange