Harmsco HMB Multi Bag Housings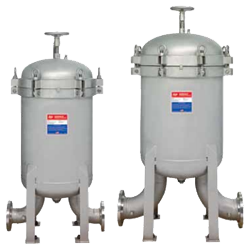 Designed to employ the use of bag filters while accomodating high flow rates, the HMB series offers an effective solution for needs ranging from 800 to 2400 GPM. This housing's options allow one to choose between 304 and 316 stainless steel for all models. ASME code u-stamp is an optional addition for this line as well.
A chosen housing for solvents, process water, and lubricants (among many other applications), this bead blasted line also features two gauge ports and Snap Fit "V" style filter bags.
durable stainless steel construction
used in industrial and municipal settings
flow rates from 800 GPM to 2400 GPM
available in either 304 or 316 stainless steel
housings can function to a maximum of 250 F (121 C)
rated to a maximum pressure of 150 psi

Model
Height
Width
Inlet/Outlet
Flow Rate
Bag Size
Basket Depth
Lowest Price
Guaranteed
FREE SHIPPING!

HMB-4-FL

65"
30"
4" Flange
Up to 800 GPM (3028 LPM)
#2 Snap Fit
30"

HMB-6-FL

67-1/2"
39"
6" Flange
Up to 1200 GPM (4542 LPM)
#2 Snap Fit
30"

HMB-8-FL

70"
40"
6" Flange
Up to 1600 GPM (6057 LPM)
#2 Snap Fit
30"

HMB-12-FL

75-1/2"
42"
8" Flange
Up to 2400 GPM (9085 LPM)
#2 Snap Fit
30"