Harmsco HBC5-2 Band Clamp Housing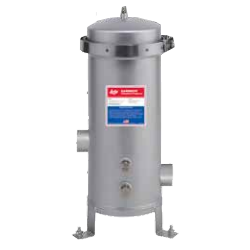 Harmsco
HBC5-2 Stainless Steel Housing
Please call 1-866-376-2690 for price and availablity.
(0 Reviews)
Be the first to write a review.
Part #:HBC5-2
With a band clamp assembly closure and bottom seal cups that accept DOE, 222/Flat, or 222/Fin style filters, the HBC5-2 housing provides a solution for filtration needs equal to or below 70 GPM. This housing's options allow one to choose between 304 and 316 stainless steel for all models.
A chosen housing for commercial drinking water, industrial waste water treatment, and well water (among many other applications), this poly coated line also features a gauge port on both the inlet and the outlet sides and a vented lid.


wide variety of filter cartridge types
vented lid
drain located on bottom of unit
designed with two gauge ports
Features & Specifications:
Material:
304 Stainless Steel, standard
Cartridges:
Five 19-1/2" or 20"
Inlet / Outlet:
2" FNPT
Temperature Rating:
up to 250F (151C)
Maximum Pressure:
150 PSI
Service Height and Weight:
54" (1372 mm); 41 lbs
Flow Rate:
up to 70 GPM (265 LPM)
O-Ring:
Buna-N, standard