Harmsco FSSS-2B-222 Single Cartridge Filter Housing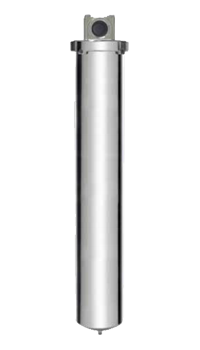 Harmsco
20 Inch FSSS-2B-222
w/ 1 Inch Inlet/Outlet
Please call 1-866-376-2690 for price and availablity.
(0 Reviews)
Be the first to write a review.
Part #:FSSS-2B-222
Arguably the easiest of Harmsco's housings to install, the FSSS series offers an effective solution for filtration needs under 30 GPM. This housing's options allow one to choose from one of three different cartridge end configurations and between 304 and 316 stainless steel.
A chosen housing for reverse osmosis prefiltration, high purity water, and food and beverage filtration (among many other applications), this electropolished line also features a double o-ring compression seal which effectively promotes positive pressure and makes changing cartridges a simple task.
low pressure loss
convenient inline design to simplify installation
designed with a 1/4" NPT drain
housing comes with wrench and mounting bracket
Features & Specifications:
Material:
304 Stainless Steel
End Configuration:
222/Flat
Inlet / Outlet:
1"
Temperature Rating:
up to 250F (121C)
Maximum Pressure:
300 PSI
Dimensions:
23" x 4.06" (584 x 103 mm)
Initial Pressure Drop:
1 PSI @ 30 gpm (0.07 bar @ 114 Lpm)
O-Ring:
EPDM
Other Harmsco 20" FSSS Housing Options:
Harmsco FSSS-2A w/ DOE and 316 SS
Harmsco FSSS-2B w/ DOE and 304 SS
Harmsco FSSS-2A-222 w/ 222/Flat and 316 SS