Harmsco BCB Band Clamp Bag Housings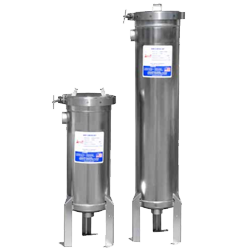 Harmsco's BCB line is composed of units designed for filtering at an industrial level. This housing features a band clamp closure which makes changing its bag filters an easy job. Also, this line comes with an available accomodation for extended area filtration bags patented by Harmsco. These extended bags have around 30% more surface area than standard bags! This means extended bag life and greater contaminant elimination. Harmsco's BCB housings provide a variety of solutions for filtration needs ranging from 90 to 200 GPM. This housing's options allow one to choose between 304 or 316 stainless steel for all models.
A chosen housing for paint, industrial waste water treatment, and solvents (among many other applications), this electropolished line also features legs that drill into place and the choice between two inlet/outlet sizes.
durable stainless steel construction
used in industrial settings
max flow rates from 90 GPM to 200 GPM for most cartridge types
available in either 304 or 316 stainless steel
housings can function to a maximum of 250 F (121 C)
rated to a maximum pressure of 150 psi
coated option for superior chemical resistance available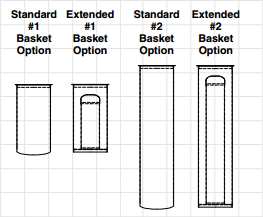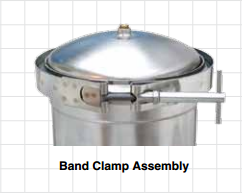 Standard Bag Housings
Model
Height
Diameter
Inlet/Outlet
Flow Rate
Bag Size
Lowest Price
Guaranteed
FREE SHIPPING!

BCB-1-1.5-STD

28-1/4"
8"
1.5" FNPT
Up to 90 GPM (341 LPM)
#1 Standard

BCB-1-2-STD

28-1/4"
8"
2" FNPT
Up to 90 GPM (341 LPM)
#1 Standard

BCB-2-1.5-STD

42-3/4"
8"
1.5" FNPT
Up to 200 GPM (757 LPM)
#2 Standard

BCB-2-2-STD

42-3/4"
8"
2" FNPT
Up to 200 GPM (757 LPM)
#2 Standard
Extended Bag Housings
Model
Height
Diameter
Inlet/Outlet
Flow Rate
Bag Size
Lowest Price
Guaranteed
FREE SHIPPING!

BCB-1-1.5-EXT

28-1/4"
8"
1.5" FNPT
Up to 90 GPM (341 LPM)
#1 Extended

BCB-1-2-EXT

28-1/4"
8"
2" FNPT
Up to 90 GPM (341 LPM)
#1 Extended

BCB-2-1.5-EXT

42-3/4"
8"
1.5" FNPT
Up to 200 GPM (757 LPM)
#2 Extended

BCB-2-2-EXT

42-3/4"
8"
2" FNPT
Up to 200 GPM (757 LPM)
#2 Extended