Viqua C2-02 Water Filter
Viqua
C2-02
MSRP: USD$627.30 ($104.55 per filter)
or
USD$300.95 case of 6
($50.16 per filter)
Choose Quantity:

Bulk Quantity Discounts Available,
Please call 1-866-376-2690 for Quote

City Water

Well Water
Recommended for the treatment/removal of:
Sediment, Dirt, Rust Particles, Chlorine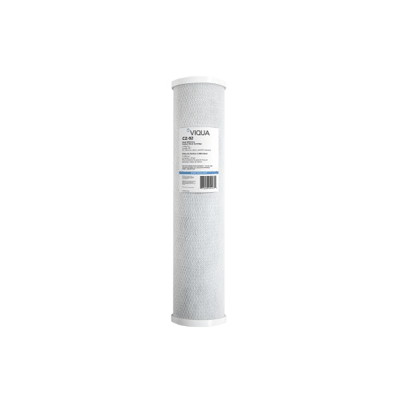 Description
In Series Filters
Alternative Filters
Reviews
FAQ
Description, Features & Benefits
Specifications:
Manufacturer/Brand:
Viqua
Filter Series:
C
Part Number:
Type:
Carbon - Pleated
Material(s):
Carbon Impregnated Cellulose
Size:
4 1/2 x 20 Inches (114 x 508 mm)
Micron Rating:
10 (Nominal)
GTIN:
773058000239
The Viqua C2-02 Carbon Block Filter effectivily removes chlorine while improving the taste and odor of your water. It has been designed to fit most standard 4 1/2 x 20 inch housings.
Modified carbon block cartridges for taste and odour
Economical chlorine removal
In Series Filters
We do not currently have any recommended alternatives to this filter.
Viqua C2-02 Reviews
Fast shipping

Fast Shipping and the filter came as advertised. Great customer support too!!
- Jeremy
Good product

Good product. Does it's job - very satisfied
- Andres
Easy install

The new filter was a breeze to install. I was amazed how much sediment the old filter caught. Glad to have the new one in now.
- Phil
Reviews from the same Filter Series
Carbon block filter

We're now using this in the Viqua UV system to filter our well water, so now we drink it right out of the tap instead of putting it through a Brita filter first. Just changed it after 6 months use, works fine.
- Gary Fuhrman
the final filter

For two years now we've been using this carbon block filter as the second ot the two filters in our Viqua system. I change it once a year, the cheaper sediment filter three times a year. Works just fine to make our shallow well water (just collected ground water) safe and good-tasting.
- Gary F.
FAST SHIPPING GREAT PRICE

Shipping was fast and price was right! Will buy from them again.
- LNELSON
It fits

The hawsing had no identification on it so I had to go by the picture and dimensions. It all worked out.
- jpb
well made

Great product easy to install well made would buy again
- Ryan
great replacement product

great filter and great company, great shipping, fast. these are original equipment great price..
- Andrew
Great Filter

I have been using these carbon filters for about four years now. Top quality filter. Does a really good job.
- Charlie
Viqua C2-02 Customer Questions & Answers