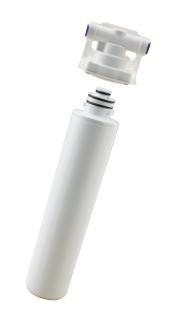 Out of Stock
Pentek QC10-CGACR Filter
Spun-bonded polypropylene cartridges
Pentek Quick Change Filtration Systems are designed for easy installation and cartridge change. Effortless installation is achieved with 1/4-inch and 3/8-inch push fittings, as well as 1/4-inch compression fittings, on the inlet and outlet sides of the filter head. Many single systems are NSF Certified.
The Pentek QC10-CGACR cartridge filter is easily changed with a quarter-turn of the filter. Water is automatically shut off during the change of the filter through the auto-shut feature built into the filter head. This feature eliminates the need for additional shut-off valves to and from the filter system.
Features, Options and Benefits:
Easy to install, easy to change filters
Unique cover for single unit for a more appealing look
Reversible metal brackets for 1, 2, or 3 cartridges
1/4-inch or 3/8-inch John Guest® push-fit connections available
1/4-inch compression connections available for flex hose connections
Designed for purity and chemical compatibility
Spun fibers form a true gradient density from outer to inner surfaces
Specifications
Part #:
25570443
Micron Rating:*
-
Cartridge Color
Blue
Filter Life
500 gal. (1890 L) chloramine*
10000 gal. (37850 L) chlorine*
# Per Case
12
GTIN:
n/a
* Filter life based on chlorine reduction as tested by Pentair Filtration, Inc.
Not Performance Tested or Certified by NSF.