Enpress CT-MEDIA05 Empty Shell Media Cartridge
empty shell media cartridge to build your own media filters for the Enpress ONE Cartridge Tank systems
Alternative Part Numbers:
Enpress CT-MEDIA05
Nelsen NFS-MEDIA05
Watts SCT-MEDIA05
US Filter 350-ONE-CANISTER
Hellenbrand 110122
Note: Not compatible with Water-Right CT-MEDIA05-IO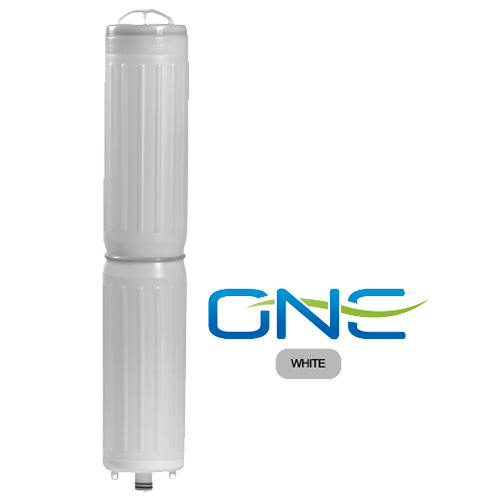 The CT-MEDIA05 is an empty shell cartridge to which any granular filter media can be added to create your own water filters compatible with the Enpress ONE Cartridge Tank system. The CT-MEDIA05 holds 0.5 cubic feet of granular media. Popular media choices include activated carbon, calcite, Corosex, MetSorb, KDF, ScaleStop and other TAC media, and ion exchange resins for softening, deionization, nitrate removal, uranium reduction, and tannin/organics removal.
The CT-MEDIA05's design also incorporates the patented Enpress Vortech distributor plate technology, providing uniform distribution and utilization of the media bed along with maximum efficiencies and service flow rates, giving system design maximum flexibility whether installed in up-flow or down-flow service.
See the pressure drop vs. flow rate chart for expected pressure loss at various flow rates for alternative media options.
Each filter comes with top cap with built-in handle for lightweight and easy removal, a bag for proper sanitary disposal, and a double o-ring bottom seal to prevent filter bypass.
The Enpress CT-MEDIA05 cartridge is designed specifically for Enpress ONE Cartridge Tank filter systems with 1.25 inch inlet/outlet. The Enpress ONE Cartridge Tank is marketed under a variety of other brand names and part numbers, including: Watts SCT-125; US Filter Systems 350-ONE-CT-125; Hellenbrand 109710, and Nelsen NFS-HF. This cartridge is compatible with all of these systems that have a 1.25 inch inlet/outlet.
Features and Benefits:
Durable polyethylene construction
Enpress Vortech distributor plate technology for optimal media utilization
Upflow or downflow service
Double Buna-N o-ring seals to ensure no bypass of contaminants and high chemical compatibility
Specifications
Filter Type:
Re-Fillable Empty Shell for Granular Media (Media Sold Separately)
Media Capacity:
Single Chamber, 0.5 Cubic Feet
Max. Recommended Flow Rate:
Upflow: up to 30 GPM / Downflow: up to 30 GPM - See Media Specifications
Filter Material:
Polyethylene
O-Ring Material:
Buna-N
Max Pressure (Feed):
<70 psi recommended