Enpress CT-20xNanoAl-PAC-AG Pleated Sediment Filter with NanoAl Media and Carbon Block Core
Dual gradient, double-pleated filters with electropositively charged NanoAl media and carbon block core for Enpress ONE Cartridge Tank systems
Alternative Part Numbers:
Enpress CT-20xNanoAl-PAC-AG
Nelsen NFS-20NANO-PAC-AG-HF
Watts SCT-20NANOPACAG
Hellenbrand 109701
Note: Not compatible with Water-Right CT-20xNanoAl-PAC-AG-IO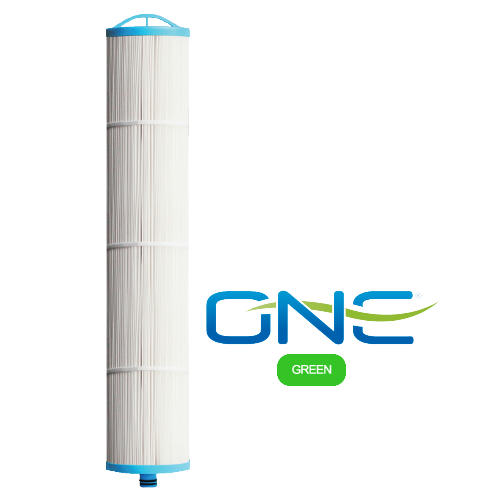 The CT-20xNanoAl-PAC-AG is a dual-gradient, double-pleated filter designed for extended life and use. It features a large 20 micron pleated pre-filtration layer externally, an NanoAl electropositively-charged internal filter capable of removing many contaminants from 1 to 0.2 microns, and a carbon block core. This design offers finer particle retention, higher flow rate and loading capacity, and lower pressure drop than conventional filter technology.
The CT-20xNanoAl-PAC-AG filter will outperform competitive filtration solutions in most turbidity applications including insoluble scale, oxidized iron, bacterial iron slime, colloidal solids, silt, rust, and other particle filtration, resulting in higher water quality and longer life of the filtration system. This filter is a popular choice for RO pre-treatment applications as it is able to remove many known foulants for RO membranes including many viruses, bacteria, colloids (Iron, Manganese, Silica, etc), Cellular debris, and more. This filter may also reduce humid acid based tannins although high levels may result in adverse filter life.
The Green Series of pleated filters features a thermally bonded blend of micro-glass fibers & cellulose, infused with nanoalumina fibers in a non-woven matrix that creates an electropositively charged depth filter media. When assembled into a pleated cartridge, this technology offers a unique combination of efficiency, capacity, flow rate, & low pressure drop. All filters feature the use of Agion antimicrobial technology that provides built-in protection by working 24/7 resisting the growth of microbes.
Each filter comes with top cap with built-in handle for lightweight and easy removal, a bag for proper sanitary disposal, and a double o-ring bottom seal to prevent filter bypass.
The Enpress CT-20xNanoAl-PAC-AG cartridge is designed specifically for Enpress ONE Cartridge Tank filter systems with 1.25 inch inlet/outlet. The Enpress ONE Cartridge Tank is marketed under a variety of other brand names and part numbers, including: Watts SCT-125; US Filter Systems 350-ONE-CT-125; Hellenbrand 109710, and Nelsen NFS-HF. This cartridge is compatible with all of these systems that have a 1.25 inch inlet/outlet.
Features and Benefits:
Dual gradient, double pleated filters for improved service life, contaminant removal, and dirt holding capacity
Successfully removal of many contaminants in the 1 to 0.2 microns range
Carbon block core for extended contaminant removal range and declorination
Huge surface area to promote high flow rates, low pressure loss, and reduced cartridge replacement frequency
Double Buna-N o-ring seals to ensure no bypass of contaminants and high chemical compatibility
Filter belly bands prevent collapsing of filters under high flow or contaminant load applications
Agion anti-microbial technology for superior bacteria resistance
Specifications
Filter Type:
Dual-Gradient, Pleated w/ Carbon Block Core (thermally bonded blend of micro-glass fibers & cellulose, infused with nanoalumina fibers)
Micron Rating:
20 Micron Outer Pre-Filter / as low as 0.2 Micron Inner Core
Max. Recommended Flow Rate:
60 GPM (189 LPM)
O-Ring Material:
Buna-N
Max Pressure (Feed):
150 psi (<90 psi recommended)