Enpress CT-2005-SWMB String-Wound/Melt-Blown Sediment Filter - 5 Micron
dual gradient, 5 micron filter with string-wound outer filter and melt-blown inner core for Enpress ONE Cartridge Tank systems
Alternative Part Numbers:
Enpress CT-2005-SWMB
Nelsen NFS-2005-SWMB-HF
Watts SCT-2005SWMB
Hellenbrand 109928
Note: Not compatible with Water-Right CT-2005-SWMB-IO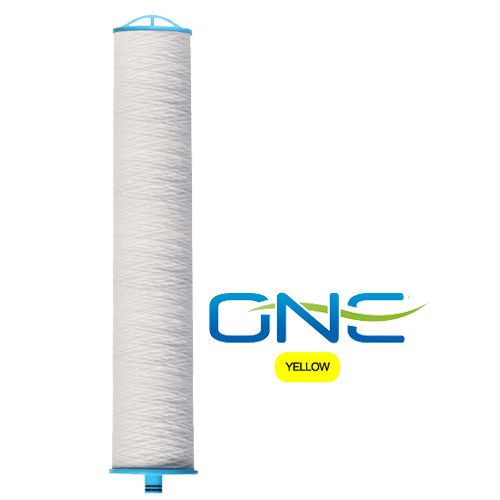 The CT-2005-SWMB is a dual gradient filter designed for extended life and use, with a filtration level of 5 microns (nominal). Like other Orange Series cartridges, this filter features two distinct layers, a 20 micron string-wound outer layer and a melt-blown 5 micron inner layer (both polypropylene). The large diameter pre-filter reduces particulate loading on the post filter allowing it to perform at higher velocities, capturing fine sediment, sand, silt, rust and scale particles . This equates to higher particulate reduction and added loading capacity. The CT-2005-SWMB is acceptable for flow rates up to 50 GPM, but is recommended for applications under 30 GPM to minimize pressure loss. See the pressure drop vs. flow rate chart for expected pressure loss at various flow rates.
Each filter comes with top cap with built-in handle for lightweight and easy removal, a bag for proper sanitary disposal, and a double o-ring bottom seal to prevent filter bypass.
The Enpress CT-2005-SWMB cartridge is designed specifically for Enpress ONE Cartridge Tank filter systems with 1.25 inch inlet/outlet. The Enpress ONE Cartridge Tank is marketed under a variety of other brand names and part numbers, including: Watts SCT-125; US Filter Systems 350-ONE-CT-125; Hellenbrand 109710, and Nelsen NFS-HF. This cartridge is compatible with all of these systems that have a 1.25 inch inlet/outlet.
Features and Benefits:
Dual gradient design for improved service life, contaminant removal, and dirt holding capacity
Large surface area to promote high flow rates, low pressure loss, and reduced cartridge replacement frequency
Double Buna-N o-ring seals to ensure no bypass of contaminants and high chemical compatibility
Filter belly bands prevent collapsing of filters under high flow or contaminant load applications
Durable polypropylene construction for superior bacteria and chemical resistance
Specifications
Filter Type:
Dual-Gradient, String-Wound Outer Filter, Melt Blown Inner Filter
Micron Rating:
20 Micron Outer / 5 Micron Inner
Max. Acceptable Flow Rate:
50 GPM (189 LPM)
Max. Recommended Flow Rate:
30 GPM (113 LPM)
Outer Filter Material:
String Wound Polypropylene
Inner Filter Material:
Thermally-Bonded Melt-Blown Polypropylene
End Cap Material:
Polypropylene
O-Ring Material:
Buna-N
Max Pressure (Feed):
150 psi (<90 psi recommended)