Brio
Reverse Osmosis (RO) Membranes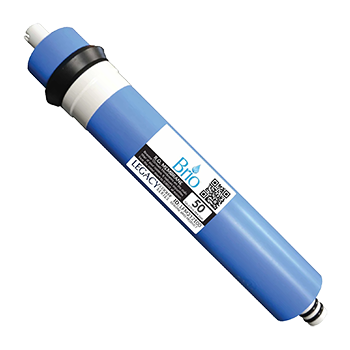 replacement reverse osmosis membrane elements for home drinking water systems
The performance of reverse osmosis (RO) drinking water systems is directly related to the quality of the RO membrane installed in the system. Brio reverse osmosis (RO) membranes are both economical and effective, made by one of the top names in the industry.
very economical, brand-name membrane
reduces viruses, fluoride, bacteria, heavy metals, lead, various chemicals, and more
far higher rejection rates, greater durability and life as compared to cellulose (CTA) membranes
blocks impurities as small as 0.0001 microns
removes up to 99.9% impurities
NSF/ANSI Standard 58 listed

Brio RO membrane elements fit most standard nominal 2-inch I.D. pressure vessels. Accordingly, they will fit in most residential RO membrane housings, regardless of brand! Be sure to match capacities, not just physical size to ensure proper performance. Compare measurements below to confirm.
| Model | Dia x Length | Maximum Pressure | Capacity (GPD) | Rejection Rate | Price Each |
| --- | --- | --- | --- | --- | --- |
| Brio FLRM1101 | 1.8 x 11.7" | 125 psi | 50 | 98% | |
| Brio FLRM1118 | 1.8 x 11.7" | 125 psi | 75 | 98% | |
Notice: The use of this product in and of itself does not necessarily guarantee the removal of cysts and pathogens from water. Effective cyst and pathogen reduction is dependent on the complete system design and on the operation and maintenance of the system.