Aquatec CDP6800 Reverse Osmosis System Booster Pump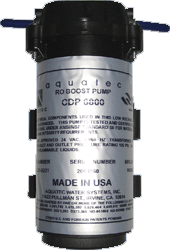 A booster pump must be used in conjunction with your under sink reverse osmosis system if your water system pressure is below 35 to 40 psi. Low pressure conditions can often be found with some rural community water supplies, in high-rise apartments, or on private well systems.
The pump should be installed in the feed water line just before the RO unit. The booster pump is self-priming and whisper-quiet. In runs off a 24 volt power adapter from a standard electrical outlet (transformer/power supply included). The pump also includes a flexible mounting plate, quick connect water fittings, and a high pressure shut-off switch.
NSF certified to Standard 58 for material components
Made in the USA.