Trojan UVMax Model Pro 30 Power Supply / Controller / Ballast #650629-030 (2008 and prior)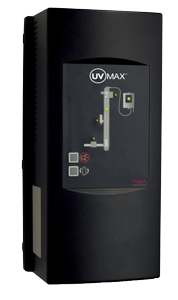 Part Number: 650629-030
This is the genuine original equipment replacement UV power supply / controller / ballast for NSF-validated Trojan UVMax Model Pro 30 UV sterilizers manufactured in prior to 2008. If your system was manufactured in 2008 to present, click here. Systems manufactured in 2008 and later require a different controller, part # 650709-009.
Specifications:
Voltage: 100-240 volts
Weight: 3.6 KG (8 LB)
Power cord sold separately - do not discard your power cord with your old ballast!
We only sell genuine UVMax brand replacement parts from Viqua. The use of non-original equipment with your UV system could void your warranty and/or result in system damage, pre-mature lamp failure, loss of equipment validation, inadequate water disinfection, and even hazardous electrical shorts. Don't settle for anything less than genuine UVMax parts for your system. Beware of knock-offs!