John Guest Speedfit 3/4 Inch Male Connector NPT to CTS - White
Part #PSEI012826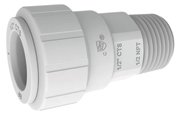 Ideal for connecting water filter housings to your pipes!
John Guest Speedfit is an advanced push-fit fitting featuring JG Twist & Lock technology that is suitable for the plumbing of domestic hot and cold water lines, including pressurized and combination systems. Speedfit Fittings have been designed for use with copper pipe, Speedfit PEX Pipe, CPVC, and PEX pipe conforming to US Plumbing Standards. Performance specifications are well within those required for most normal domestic water supply systems including hot and cold water distribution systems, potable water distribution systems, and hydronic heating systems. Extensive tests have shown that Speedfit products will withstand temperatures and pressures in excess of normal working conditions.
The PEI Series of John Guest Twist & Lock fittings are manufactured from high quality engineered plastic with EPDM O-Rings. White fittings are suitable for general hot and cold water plumbing applications. The black PEI Series of Twist & Lock fittings are UV resistant and have been specifically designed for water filtration/softener installations; however, they are also suitable for applications in general plumbing repair and remodel, marine and R.V. applications.
Features:
Twist & Lock for added security
Approved for behind-the-wall installations
Works with copper, CPVC, and PEX pipe
No tools required
Installation time reduced by 40%
Reduced pipe insertion force
Disassemble without damage to pipe or fitting
Easy to use in confined spaces
No mineral scale build-up
A permanent leak-proof connection
Lead and corrosion free
Less noise from water flow and expansion/ contraction
25-year warranty against defects in materials or manufacturing
Made in the United Kingdom (U.K.)

Compliance and Certifications:
Speedfit complies with the applicable sections of the latest edition of the Uniform Plumbing Code and the International Plumbing Code, including behind-the-wall installations.
Speedfit products are manufactured in compliance with, ASTM F876, ASTM F877, CSA B137-5, ASSE 1061 and IGC188.
Speedfit fittings & pipes have NSF/ANSI Standard 14 validation which demonstrates compliance with USA Plumbing Codes, NSF - which complies with Canada and US Standards, CSA - Canadian Standards (potable water & radiant floor heating), and NSF Standard 61 Certification for Drinking Water System Components and Materials which contact drinking water. Including Annex G where applicable.
Complies with California and Vermont low-lead legislation as the wetted surface of these products contacted by potable water contains less than one quarter of one percent (0.25%) of lead by weight.