ITS iDip Digital Photometer
Part #486101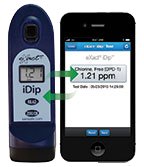 ideal for drinking water, pool, spa, environmental and educational testing
The iDip dual wavelength (525 nm or 638 nm) photometer has the capability of testing over 35 water quality parameters with lab-quality accuracy at minimal cost. This innovative device allows you to save money by only buying the tests you need! It features a narrow band wavelength filter for improved accuracy, long-life LEDs and a built-in cell for ultra-performance. Only 4 ml (0.13 oz) of water required for each tests.
tests more than 35 common water parameters
self-calibrating before every test
3 easy steps, results for most tests in only 20 seconds!
large, clear LCD display
runs on 4 AAA bateries (not included) - over 2,000 tests on a set of batteries
floats and is completely waterproof (exceeds IP67)
handheld size (6.5 x 2 x 1.4 inches; 16.5 x 5 x 3.5 cm)
lightweight (6.4 oz; 181g)
auto power-off after 3 mimutes of inactivity to save battery power
GPS, data storage, and parameter info all within smartphone app
2-year warranty and 30-day satisfaction guarantee
This high quality unit self calibrates (no returning it to the manufacturer) and automatically selects the optimal wavelength for each parameter. Incorporated into the testing procedure is ITS' patented EZ-3 Reagent Delivery Method for streamlined testing for technical and non-technical users. Compliance with EPA, ISO and DIN specifications for Chlorine testing attests to the meter's quality. Every eXact Micro photometer comes with a 30-day satisfaction guarantee and a 2-year warranty.
Note: Reagents required - sold separately.
eXact Micro 20 Test Parameters and Reagent List
Parameter / Test
Reagent Part #
Range Without Dilution
in ppm (mg/l)
Resolution
in ppm (mg/l)
Expected
Accuracy
# Of
Tests
Alkalinity, Total
486641
11 to 200
+/- 7.5%
100
Bromine, Total (DPD-1)
486636
0.07 to 17
+/- 3%
100
Chloride (as NaCl)
486757
3 to 600
1
+/- 5%
25
Chloride, High Range (as NaCl)
486757
347 to 9975
+/- 8%
25
Chlorine Dioxide
486633
0.05 to 12
0.01
+/- 5%
100
Chlorine, Free (DPD-1)
486637
0.05 to 12
0.01
+/- 5%
100
Chlorine, Combined (DPD-3)
486638
0.05 to 12
0.01
+/- 5%
100
Chlorine, Total (DPD-4)
486670
0.05 to 12
0.01
+/- 5%
100
Chlorine, Total High Range
486672
1 to 260
0.1 (1 to 20), 1 (21 to 280)
+/- 5%
50
Chromium (VI)
486614
0.01 to 2
0.01
+/- 8%
50
Copper (as Cu+2)
486632
0.06 to 11
0.01 (0 to 4), 0.1 (4.1 to 11)
+/- 2%
50
Cyanuric Acid
481652-II
3 to 110
1
+/- 9%
60
Hardness, Calcium (as CaCO3)
486629
20 to 900
+/- 5%
50
Hardness, Total High (as CaCO3)
486656
60 to 600
+/- 12%
50
Hardness, Total Low (as CaCO3)
486630
1 to 80
+/- 15%
100
Hydrogen Peroxide
486648
1 to 130
+/- 5%
50
Hydrogen Peroxide High
486676
16 to 4200
+/- 8%
100
Hydrogen Peroxide Low
486616
0.02 to 3.5
0.01
+/- 7%
50
Iodine (DPD-1)
486627
0.08 to 21
+/- 4%
100
Iron, Total
486650
0.03 to 8
0.01 (0.03 to 2.5), 0.1 (2.51 to 8)
+/- 8%
50
Manganese (as Mn+2)
486606
0.03 to 2.6
0.01
+/- 6%
24
Metals+2
486604
0 to 1.75
+/- 6%
25
Molybdate
486653
0.02 to 5
+/- 10%
50
Nitrate (as NO3)
486655
0.25 to 32
0.01 (0.25 to 5), 0.1 (5.1 to 32)
+/- 6%
50
Nitrite (as NO2)
486623
0.02 to 4
0.01
+/- 3%
50
Ozone (DPD-4)
486634
0.01 to 2
0.01
+/- 10%
100
Peracetic Acid (DPD-4)
486674
0.05 to 11
+/- 4%
100
Permanganate (DPD-1)
486626
0.02 to 6
+/- 5%
100
pH
486639-II
6.0 to 8.5 pH
+/- 0.2 pH
100
pH, Acid
486624
4.5 to 6.5 pH
+/- 0.3 pH
50
pH, Alkali
486609
7.5 to 10.0 pH
+/- 0.3 pH
50
Phosphate (as PO4)
486814
0.02 to 5
0.01 (0 to 2.5), 0.1 (2.6 to 5)
+/- 8%
50
Sodium Bromide (as NaBr)
486659
19 to 400
+/- 5%
25
Sulfate (as SO4)
486608
1 to 270
1
+/- 5%
50
Sulfide (as S2-)
486818
0.11 to 5.30
+/- 12%
50
Turbidity
N/A
24 to 780 NTU
N/A
N/A
N/A