ITS eXact Micro 20 Water Treatment / Well Drillers
Complete Test Kit w/ Bluetooth
Part #486700-BTWD
Note: This model is not the same as the older generation 486700-WD which did not include Bluetooth functionality. If you are comparing pricing, make sure that you are comparing to a unit with the same functionality and features.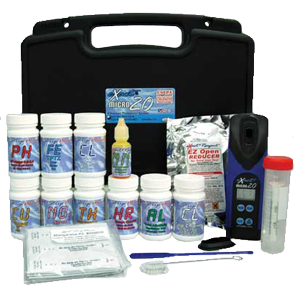 ITS
eXact Micro 20 Water Treatment / Well Drillers Complete Test Kit - #486700-BTWD
MSRP:

US

$

899.99
Our Price: US$649.95
You save: $250.04
Write a review.
Found a Lower Price?
Request a Price Beat

ideal field testing kit for water treatment technicians, plumbers, and well drillers
The eXact Micro 20 Water Treatment / Well Drillers Test Kit provides fast, accurate test results for a wide range of the most important water parameters.
The kit comes complete with an eXact Micro 20 dual wavelength (525 nm or 638 nm) photometer which tests over 30 water quality parameters with lab-quality accuracy at minimal cost. The photometer features a narrow band wavelength filter for improved accuracy, long-life LEDs, and a built-in cell for ultra-performance. Only 4 ml (0.13 oz) of water required for each test. Results can be shared in real-time via e?mail or exported to a CSV spreadsheet with time/date GPS locations when used with the eXact iDip(R) app.
The Kit also includes a starter supply of reagents/strips for popular tests (chlorine [total and free], hardness, iron, manganese, copper, nitrate, pH, and alkalinity), a mini dilution kit, plastic carrying case, stirrer, cell cleaning brush and mixing cap - everything that you need to start doing water tests right away!
Features of the eXact Micro 20 photometer:
tests for more than 30 common water parameters
self-calibrating before every test
3 easy steps, results for most tests in only 20 seconds!
large, clear LCD display
runs on 4 AAA bateries (not included) - over 2,000 tests on a set of batteries
completely waterproof (exceeds IP67)
handheld size (6.5 x 2 x 1.4 inches; 16.5 x 5 x 3.5 cm)
lightweight (6.4 oz; 181g)
auto power-off after 3 minutes of inactivity to save battery power
stores the last 20 results for each test parameter
2-year warranty and 30-day satisfaction guarantee
The eXact Micro 20 photometer self calibrates (no returning it to the manufacturer) and automatically selects the optimal wavelength for each parameter. Incorporated into the testing procedure is ITS' patented EZ-3 Reagent Delivery Method allowing streamlined testing for technical and non-technical users. Compliance with EPA, ISO and DIN specifications for Chlorine testing attests to the meter's quality. Every eXact Micro photometer comes with a 30-day satisfaction guarantee and a 2-year warranty.
eXact Micro 20 Water Treatment / Well Drillers Test Kit
Included Parameters and Reagent List
Parameter / Test
Reagent Part #
Range Without Dilution
in ppm (mg/l)
Resolution
in ppm (mg/l)
Expected
Accuracy
Alkalinity, Total
486641
1 to 200
0.1 (1 to 50), 1 (51 to 200)
+/- 12%
Chlorine, Free
486637
0.01 to 6
0.01
+/- 3%
Chlorine, High Range
486672
2 to 280
0.1 (2 to 20), 1 (21 to 280)
+/- 9%
Chlorine, Total
486670
0.01 to 6
0.01
+/- 3%
Copper (as Cu+2)
486632
0.01 to 11
0.01 (0 to 4), 0.1 (4.1 to 11)
+/- 2%
Hardness, Total (as CaCO3)
486673
5 to 200
1
+/- 16%
Iron, Total
486650
0.04 to 8
0.01 (0.04 to 2.5), 0.1 (2.51 to 8)
+/- 3%
Manganese (as Mn+2)
486606
0.02 to 1.5
0.01
+/- 6%
Nitrate (as NO3)
486655
0.12 to 30
0.01 (0.01 to 5), 0.1 (5.1 to 30)
+/- 20%
pH
486639
6.2 to 8.4 pH
0.01
+/- 0.4 pH
Other Reagent Options for eXact Micro 20 - Sold Separately
Parameter / Test
Reagent Part #
Range Without Dilution
in ppm (mg/l)
Resolution
in ppm (mg/l)
Expected
Accuracy
Aluminum (as Al+3)
486821
0.02 to 1.5
0.01
+/- 13%
Ammonia (as NH3)
486654
0.01 to 2.4
0.01
+/- 5%
Biguanide
486810
2 to 200
0.1 (2 to 20), 1 (21 to 200)
+/- 7.5%
Bromine
486637
0.1 to 12
0.01 (0.1 to 2), 0.1 (2.1 to 12)
+/- 10%
Calcium (as CaCO3)
486629
18 to 420
1
+/- 12%
Chloride (as NaCl)
486757
1 to 430
1
+/- 20%
Chloride, High Range (as NaCl)
486757
20 to 8600
20
+/- 20%
Chlorine Dioxide
486637 & 484014
0.01 to 10
0.01
+/- 5%
Chlorine, Combined
486637 & 486638
0.01 to 6
0.01
+/- 3%
Chlorine, Total
486637 & 486638
0.01 to 6
0.01
+/- 3%
Chromium (VI)
486614
0.01 to 1.8
0.01
+/- 5%
Cyanide
486812
0.01 to 1.9
0.01
+/- 13%
Cyanuric Acid
481652-II
3 to 120
1
+/- 8%
Fluoride
486643
0.03 to 1.45
0.01
+/- 15%
Hardness, Total High Range (as CaCO3)
486656
20 to 1250
-
-
Hydrogen Peroxide, Low Range
486616
0.01 to 2
0.01
+/- 8%
Iron II
486631
0.04 to 8
0.01 (0.04 to 2.5), 0.1 (2.51 to 8)
+/- 3%
Nitrite (as NO2)
486623
0.01 to 1.8
0.01
+/- 5%
Ozone
486670
0.01 to 5
0.01
+/- 3%
Peracetic Acid
486670
0.01 to 6
0.01
+/- 3%
Permanganate
486637
0.01 to 5
0.01
+/- 2%
pH, Fresh Water
486652
5 to 9.2 pH
0.01
+/- 0.2 pH
pH, Salt Water
486657
5 to 9.2 pH
0.01
+/- 0.2 pH
Phosphate (as PO4)
486814
0.01 to 4
0.01 (0 to 2.5), 0.1 (2.6 to 4)
+/- 4%
Quaternary Ammonia
486823
4 to 110
1
+/- 8%
Sulfate (as SO4)
486608
1 to 250
1
+/- 5%
Sulfide (as S2-)
486818
0.01 to 1.7
0.01
+/- 6%