ITS Chlorine + eXact® EZ Photometer
Part #486205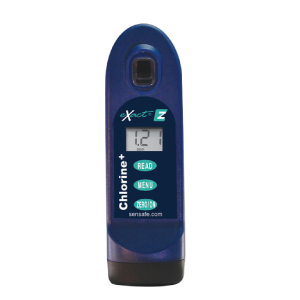 ITS
Chlorine + eXact® EZ Photometer - #486205
MSRP:

US

$

239.99
Our Price: US$194.95
You save: $45.04
Found a Lower Price?
Request a Price Beat

test for free and total chlorine, pH (and more!) with the convenience of a hand-held photometer - accurate results in only 20 seconds!
The Chlorine + eXact® EZ photometer is one of the fastest and easiest chlorine testers available. This photometer features a narrow band wavelength filter for improved accuracy, long-life LEDs, and a built-in cell for ultra-performance. Only 4 ml (0.13 oz) of water required for each test.
Tests for: free chlorine, combined chlorine, total chlorine, high range chlorine, chlorine dioxide, and pH.
self-calibrating before every test; accurate results with up to 0.01 resolution
4500-Cl G DPD and 4500-CLO2 D DPD Compliant, US EPA Health Department Compliant
3 easy steps, results for most tests in only 20 seconds!
large, clear LCD display
runs on 4 AAA bateries (not included) - over 2,000 tests on a set of batteries
completely waterproof (exceeds IP67)
handheld size (6.5 x 2 x 1.4 inches; 16.5 x 5 x 3.5 cm)
lightweight (6.4 oz; 181g)
auto power-off after 5 minutes of inactivity to save battery power
stores the last 20 results for each test parameter
2-year warranty and 30-day satisfaction guarantee
This high quality unit self calibrates (no returning it to the manufacturer). Incorporated into the testing procedure is ITS' patented EZ-3 Reagent Delivery Method allowing streamlined testing for technical and non-technical users. Compliance with EPA, ISO and DIN specifications for Chlorine testing attests to the meter's quality. 30-day satisfaction guarantee and a 2-year warranty.

Items included with the photometer are:
user manual
cell cleaning brush
free chlorine test strips (DPD-1) - quantity 6
combined chlorine tests strips (DPD-3) - quantity 6
total chlorine test strips (DPD-4) - quantity 6
total chlorine high range test strips - quantity 6
chlorine dioxide test strips w/ glycine - quantity 6
pH test strips - quantity 6

Note: Reagents required. See above for list of reagent strips included with original purchase. Additional test strips available separately. See below for details.
eXact EX Chlorine Plus Test Parameters and Reagent List
Parameter / Test
Reagent Part #
Range Without Dilution
in ppm (mg/l)
Resolution
in ppm (mg/l)
Expected
Accuracy
Chlorine Dioxide (DPD-1)
486633
0.04 to 15
0.01 (0 to 1.99), .1 (2 to 15)
+/- 5%
Chlorine, Combined (DPD-3)
486637 + 486638
0.05 to 12
0.01 (0 to 2.99), 0.1 (3 to 5.9), 1 (6-12)
+/- 5% to 5.9 ppm, +/- 12% above 5.9
Chlorine, Free (DPD-1)
486637
0.05 to 12
0.01 (0 to 2.99), 0.1 (3 to 5.9), 1 (6-12)
+/- 5% to 5.9 ppm, +/- 12% above 5.9
Chlorine Total, High Range
486672
1 to 260
0.1 (0 to 20), 1 (21 to 260)
+/- 10% (0 to 50), +/- 8% above 50
Chlorine, Total (DPD-4)
486670
0.05 to 12
0.01 (0 to 2.99), 0.1 (3 to 5.9), 1 (6-12)
+/- 5% to 5.9 ppm, +/- 12% above 5.9
pH
486639
6.2 to 8.4 pH
0.01
+/- 0.4 pH