Trojan UVMax whole house and POU ultraviolet (UV) water purifiers
Trojan UVMax Point-of-Use and Whole House UV Sterilizers
Trojan UV Max ultraviolet (UV) water sterilizers are designed specifically to kill harmful microorganisms such as bacteria and viruses in untreated water supplies (well water or private water systems). Ultraviolet (UV) systems are commonly installed by homeowners who have received a positive coliform, e.coli, cryptosporidium, or giardia water test result, as well as those with reason to suspect that they are at higher risk for such contamination, and those seeking to have peace-of-mind that their water is being properly disinfected prior to consumption. Ultraviolet whole house water sterilizers are exploding in popularity due to their low maintenance requirements, ease of operation, economical purchase price and operating cost, and due to the fact that unlike other treatments designed for microbiological contaminants, UV does not introduce any harmful chemicals to your water. Trojan Technologies is one of the world's largest water treatment companies and is regarded as both a pioneer and innovator in the area of ultraviolet water treatment for the home.

The Trojan UVMax product line includes a wide range of models suitable for almost any conceivable residential and light commercial water treatment application. The Trojan UVMax Model A through Model F4 is a popular and economical line of point-of-use and whole house models. The Trojan UVMax Models A and B4 are designed for point-of-use applications, whereas the Models C4, D4, E4, and F4 are designed for whole house point-of-entry applications. The new up-market Trojan UVMax Models G, H, and J were designed for higher flow rate applications, and the popular Pro Series Models Pro 10, Pro 20, and Pro 30 were designed specifically for applications where NSF certification is required or desired.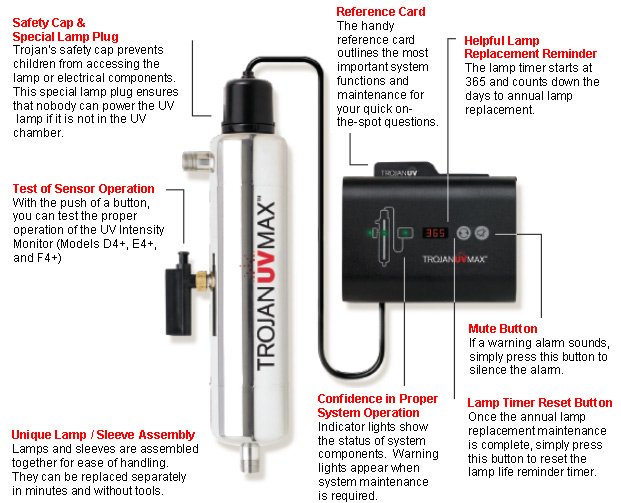 Advantages of point-of-use or whole house UV treatment with the Trojan UV Max
| | |
| --- | --- |
| | chemical free approach - no harmful bi-products or chemicals added to your water |
| | effectively kills bacteria, viruses, mold spores, fungi, oocysts (cryptospridium and giardia), and other microbiological contaminants |
| | simple operation, limited maintenance, and easy installation |
| | low initial cost and ongoing operating cost relative to other treatment methods |
The UV lamp, which is enclosed in a quartz sleeve, produces ultraviolet light that destroys waterborne pathogens such as bacteria and viruses by penetrating the cell wall and deactivating the DNA so they are unable to reproduce. The UV lamp should be replaced annually. For more information on the removal of various contaminants by ultraviolet purification, please CLICK HERE.
Which whole house Trojan UVMax ultraviolet (UV) purifier is best for your home is determined largely by the level of contamination and the maximum flow rate required in your home. Pre-filtration (down to 5 micron level) to remove sediment and other general contaminants is required to ensure that an adequate dose of ultraviolet light reaches the microorganisms and to ensure complete disinfection. Optional in-line flow restrictors, emergency solenoid shut-off valves, and UPS back-up power supplies can be added to your system for added protection and functionality. Below, please find details on all of our whole house Trojan UVMax water purifiers, recommended accessories, recommended pre-filters, and links to a wide range of other information to help you with your research. Please call us toll free at 1-866-376-2690 if you would like to discuss your application.
Trojan UVMax water purifiers feature the following benefits:
Learn More About Trojan UVMax:










1. High Output UV Lamps
The UV light is generated from a low-pressure, high-output lamp that provides a higher intensity of UV light making it possible to treat a given volume of water with smaller, more efficient units.

2. Unique Water Chamber Design
Trojan's unique water chamber optimizes hydraulic performance and increases disinfection efficiency. Designed by computer simulation and validated by bioassay testing, the water chamber maximizes exposure to the penetrating light. Trojan models to treat flow rates up to 45 gallons per minute (170 liters per minute) based on a minimum dosage of 30,000 µWs/cm2 are available.

3. New Power Supply Technology
Electronic advances in Trojan's power supply offer flexibility over a broad range of voltage supplies (100-240v). In addition, it can withstand fluctuations in voltage that most power supplies are unable to tolerate while maintaining lamp intensity to ensure continuous disinfection. Most models - see specifications for details.

4. Worry Free Operation
To help remind you when to replace the lamp (it is important to do it once every year), Trojan has incorporated visual and audio signals. And, at any time the display will tell you how many months the lamp has been in use. Should your lamp ever fail, your system will automatically sound an alarm. The Trojan UVMax features an intuitive control panels with indicator lights for each critical component, so at a quick glace, you can confirm that your system is operating properly.

5. UV Intensity Monitor
Several Trojan UVMax models can be equipped with an optional UV intensity monitor which constantly monitors the level of UV dosage within the UV reaction chamber to ensure that a safe disinfecting dose is always present. A UV intensity monitor is standard equipment on the Trojan UVMax Pro Series models, and is available as an option on most other whole house models. Trojan models models that feature a UV intensity monitor are often referred to as "+" models (Models D4+, E4+, F4+, G+, H+, J+, and all "Pro" series models).

6. NSF International Certification
The Trojan UVMax Pro Series (Pro 10, Pro 20, and Pro 30) models have been tested and certified to NSF Standard 55 Class A. This is your assurance that the Trojan UV Max will provide safe drinking water. For more details visit the NSF International website.

7. Optional Accessories
Many whole house Trojan UVMax sterilizers (all models except the Models A, B4 & C4) can be equipped with an emergency solenoid shut-off valve which in the event of a power failure, lamp (bulb) failure, or decline in UV dosage below a safe disinfection level, will turn off your water supply to ensure no untreated water ever makes it to a faucet in your home.


Standard Trojan UV Max Point-of-Use &
Whole House Ultraviolet (UV) Sterilizer Models


Model A
Model B4
Model C4
Model D4
Model E4
Model F4
Application
point-of-use only
point-of-use only
small
home
small
home
average
home
large
home
Max. Flow Rate
(UV dose >30,000 µWs/cm2)*
2 GPM
5 GPM
7.5 GPM
7.5 GPM
15 GPM
25 GPM
Max. Flow Rate
(UV dose >40,000 µWs/cm2)*
1.5 GPM
4 GPM
6.5 GPM
6.5 GPM
11 GPM
19 GPM
No Tools Maintenance
Audible/Visual Lamp
Failure Alarm
Lamp Timer Display and Reset
-
-
-
Constant Current Electronic Power Supply
Alarm Mute
-
-
-
Reference Card
-
UV Intensity Monitor w/ Diagnostic Test
-
-
-
optional
optional
optional
Flow Restrictor Included?
optional
optional
optional
optional
optional
optional
Solenoid emergency shut-off valve kit
-
-
-
optional
optional
optional
Water Chamber Material
304
stainless
steel
304
stainless
steel
304
stainless
steel
304
stainless
steel
316
stainless
steel
316
stainless
steel
UV Sleeve Material
quartz
quartz
quartz
quartz
quartz
quartz
Inlet/Oulet
3/8 inch FNPT
3/4 inch NPT
3/4 inch NPT
3/4 inch NPT
1 inch NPT
1 inch NPT
Electrical
120v AC, 60Hz
100-240v AC, 50/60Hz
100-240v AC, 50/60Hz
100-240v AC, 50/60Hz
100-240v AC, 50/60Hz
100-240v AC, 50/60Hz
Max. Current (AMPS)
0.4
0.4
0.5
0.5
0.85
1.2
Max. Power (watts)
22
36
50
50
83
130
Lamp Power (watts)
14
25
40
40
70
110
Lamp Length
12"
30cm
9.75"
25cm
16"
40.5cm
16"
40.5cm
25.5"
65cm
39.75"
100.5cm
Chamber Assembly Size
15.5 x 2.5"
39 x 6.5cm
14.5 x 4"
37 x 10cm
20.5 x 4"
52 x 10cm
20.5 x 4"
52 x 10cm
30 x 4"
76 x 10cm
44.25 x 4"
112.5 x 10cm
Control Module Size
2.8 x 3.3"
7 x 8cm
8.5 x 6"
22 x 15cm
8.5 x 6"
22 x 15cm
8.5 x 6"
22 x 15cm
8.5 x 6"
22 x 15cm
8.5 x 6"
22 x 15cm
Model A
Model B4
Model C4
Model D4
Model E4
Model F4
Ground shipping within USA is included at no extra charge on all Trojan UVMax UV systems!
Price (US$)
Free shipping in USA!
$309.00
BUY NOW
$499.00
BUY NOW
$525.00
BUY NOW
$639.00
BUY NOW
$885.00
BUY NOW
$1125.00
BUY NOW

Trojan UVMax Model A

Trojan UVMax Model B4

Trojan UVMax Model C4

Trojan UVMax Model D4

Trojan UVMax Model E4

Trojan UVMax Model F4


* For residential most applications, we recommend a UV dose of 40,000 µWs/cm2. This is considered an "industrial" dosage. All flow rate recommendations are based on 85% UV transmittance (UVT) and after 9,000 hours of bulb operation.



Trojan UVMax Best Price Guarantee
We will not be undersold! If you find a lower advertised price anywhere, we will beat it! Simply call us toll free at 1-866-376-2690 to order and provide proof of the lower price (fax copy of flyer or name and phone number of store).

Conditions: The product must be the same, in new condition, in its original packaging and be sold with a valid warranty. Competitor must have item in stock. Our best price guarantee applies to advertised prices of a competitor at the time of your original order only. Please note, price guaranteed is the total price inclusive of shipping to selected destination.

| | | |
| --- | --- | --- |
| | | |
| | Recommended Pre-treatment | |
| | | |
All UV sterilizers required sediment pre-filtration to reduce or eliminate the possibility that a targeted contaminant could "hide" behind a sediment particle in the "shadow" of the UV light and therefore not receive a full dose of UV light. Accordingly, the manufacturer strongly recommends sediment pre-filtration down to a level of 5 microns or smaller. Water exceeding 120 ppm in hardness (7 grains per gallon) should be softened to reduce the risk that hard water mineral scale will build-up on the UV sleeve thereby reducing UV light distribution into the UV chamber. Similarly, iron levels exceeding 0.3 ppm should also be treated to prevent staining of the UV sleeve. Elevated levels of certain other contaminants, such as organics, can cause a reduction in UV transmittance (the ability of the water to transmit UV light). If the UV transmittance (UVT) of your water is less than 75% after the above-mentioned pre-treatment, activated carbon filtration may be desirable to improve UV transmittance. The majority of deep wells have a UVT of 85% or greater. If your UVT is unknown, select a model with a higher flow rate capacity then you feel you will really require (this will provide a higher UV dose at your desired flow rate), or add an activated carbon pre-filter to your system. We recommend the following pre-filter equipment:
Solenoid Emergency Shut-off Valve Kit - in the event of a power failure or electrical outage to your home, your UV lamp in your UV system will lose power. This could leave your home unprotected if someone turns on a water faucet. Some bacteria and other waterborne pathogens can also swim past an un-powered UV lamp and reach the downstream portion of your water system and therefore not receive a dose of UV light once the power is restored. The same situation could occur in the event of a UV bulb failure (rare, but possible). The solenoid emergency shut-off valve kit is installed at the output of your Trojan UV system and will physically close a valve in the event of a bulb burn-out, or power failure, thereby preventing any contaminant from passing through the system untreated. This feature will also turn off the water supply if there is a UV intensity loss (for models equipped with a UV intensity monitor). This kit is highly recommend for all homes with a known bacterial, virus, or cyst contamination problem, and for all homes with an electrical supply that is prone to frequent outages. Note: These Solenoid Valves are NSF validated for lead requirements. The brass solenoid valves previously available are no longer compliant.



BUY NOW
w/ 3/4 INCH VALVE
For Models:
D4 & D4+

US$279.95
FREE SHIPPING!

BUY NOW
w/ 1 INCH VALVE
For Models :
E4, E4+, F4, & F4+

US$299.95
FREE SHIPPING!


BUY NOW
w/ 1 INCH VALVE
For Models:
G, G+, H, H+, J, J+, & Pro10/20/30

US$229.95
FREE SHIPPING!


BUY NOW
w/ 2 INCH VALVE
For Models:
K, K+, & Pro 50

US$1519.95
FREE SHIPPING!

| | |
| --- | --- |
| | Flow Restrictors - A flow restrictor can be installed immediately prior to your UV sterilizer to ensure that you cannot exceed what would be considered the safe maximum flow rate for your respective model. A flow restrictor is recommended for all homes with a known bacterial, virus, or cyst (giardia or cryptosporidium) contamination problem. We offer a wide range of restrictors with capacities ranging from 1.5 to 20 gallons per minute in both stainless steel and chrome-plated brass. |
| | For more information on flow restrictors for Trojan UVMax sterilizers, please visit our Trojan UVMax flow restrictors page. |
Installation is straightforward for any licensed plumber or a homeowner with some plumbing experience. Plumbing connections are standard NPT thread (3/8, 3/4 inch or 1" depending on the model). It is recommended that standard manual shut-off valves be installed before and after the UV sterilizer. Optional flow restrictors and emergency solenoid shut-off valves are available for many models. The electrical supply is obtained from a standard 110-120v electrical outlet (some models can be operated at 240v). See notes above regarding recommended pre-treatment. Detailed installation instructions are provided with your system.
Trojan UVMax ultraviolet systems are covered by a 5 year limited structural, hardware, and electrical components warranty and a 1 year limited lamp, sleeve, and UV sensor warranty. For health reasons, we do not accept returns of water filters. If you are in doubt as to which filter is best for your needs, please feel free to call us toll free at 1-866-376-2690. For more details regarding the Trojan UVMax warranty, CLICK HERE.