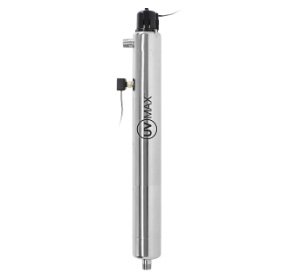 Trojan UVMax
Model F4 Plus (#650687)


Viqua (Trojan) UVMax Model F4 Plus
- #650687
The latest generation Viqua (Trojan) UVMax Model F4 Plus is designed for large homes with very high water demands where water flow rates may reach as much as 36 gallons per minute (an average shower flows at about 2 GPM). It is also popular for light industrial applications or where an extra high UV dose is desired at lower flow rates to kill stubborn contaminants.
The Viqua (Trojan) UVMax Model F4 Plus is equipped with a UV intensity monitor. The UV intensity monitor continuously monitors the intensity of the UV light to ensure that the water is receiving an adequate dose of UV light to kill the bacteria, viruses, etc. The use of a model with a UV intensity monitor is generally recommended where a known E.coli or other serious problem is present or the feed water parameters may cause problems with UV tramsmittance from time to time (sediment flushing, iron or hard water scale build-up on the UV sleeve etc.).
The Viqua (Trojan) UVMax Model F4 Plus can be equipped with an optional solenoid emergency shut-off kit (Emergency Solenoid Shut-off Kit #650717-002).




Model F4 Plus Specifications
Application
large homes
commercial
Maximum Flow Rate
(dose>30mJ/cm2)*
36 GPM (136 LPM)
Maximum Flow Rate
(dose>40mJ/cm2)*
27 GPM (102 LPM)
Audible/Visual Lamp
Failure Alarm
No Tools Maintenance
Constant Current Electronic Power Supply
Handy Reference Card
Lamp Timer Display and Reset
Alarm Mute
UV Intensity Monitor
Emergency Solenoid Shut-Off Kit
optional
Flow Restrictor
optional
Water Chamber Material
stainless
steel (316)
UV Sleeve Material
quartz
Inlet/Oulet
1 inch NPT
Electrical
100-240v, 50/60HZ
Max. Current (AMPS)
1.2
Max. Power (watts)
130
Lamp Power (watts)
110
Lamp Length
39.75"
100.5cm
Chamber Assembly Size
44.25 x 4"
112.5 x 10cm
Control Module Size
8.5 x 6"
22 x 15 cm
* For most residential applications, we recommend a UV dose of at least 40 mJ/cm2. Flow rate recommendations are based on 95% UV transmittance (UVT) and after 9,000 hours of bulb operation.
Feed Water Quality Parameters
Iron
0.3 ppm
(0.3 mg/L)
Hardness
120 ppm
(7 grains / gallon)
UV Transmittance (UVT):
75%
Maximum Temperature:
86F (30C)
Maximum Pressure:
125 psi
Options, Accessories and Replacement Parts