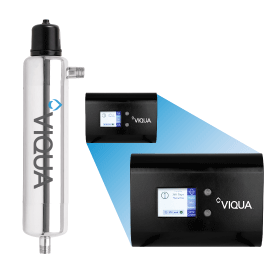 Viqua UVMax D4 Premium
with LCD screen- #660089-R
The Viqua UVMax Model D4 Premium features all the benefits of the industry standard UVMax Model D4, with the added benefit of a new LCD Interactive Screen.
The large LCD backlit display is designed for easy reading and simultaneously displays lamp life remaining, UV Intensity Status (Plus series only), support contact information, and a lamp replacement reminder. The Viqua D4 Premium's LCD display features a user-friendly menu which provides easy to follow instructions for troubleshooting your UV, and allows the user to quickly find the replacement parts needed.
The Viqua UVMax D4 Premium can treat 9 - 12 gallons per minute of water, and can be equiped with an optional emergency solenoid shut-off kit.
Model D4 Premium Specifications
Application
average home
Maximum Flow Rate
(dose>30mJ/cm2)*
12 GPM (45 LPM)
Maximum Flow Rate
(dose>40mJ/cm2)*
9 GPM (34 LPM)
Backlit LCD Display
Intuitive, user-friendly menu
Multi-language support: English, French, Spanish
Soft-touch keys
Quick-reference instructions for system troubleshooting
Audible/Visual Lamp
Failure Alarm
No Tools Maintenance
Constant Current Electronic Power Supply
Handy Reference Card
Lamp Timer Display and Reset
Alarm Mute
UV Intensity Monitor
optional
Emergency Solenoid Shut-Off Kit
optional
Flow Restrictor
optional
Water Chamber Material
stainless
steel (304)
UV Sleeve Material
quartz
Inlet/Oulet
3/4 inch NPT
Electrical
100-240v, 50/60HZ
Max. Current (AMPS)
0.5
Max. Power (watts)
50
Lamp Power (watts)
40
Lamp Length
16"
40.5cm
Chamber Assembly Size
20.5 x 4"
52 x 10cm
Control Module Size
8.5 x 6"
22 x 15 cm
* For most residential applications, we recommend a UV dose of at least 40 mJ/cm2. Flow rate recommendations are based on 95% UV transmittance (UVT) and after 9,000 hours of bulb operation.
Feed Water Quality Parameters
Iron
0.3 ppm
(0.3 mg/L)
Hardness
120 ppm
(7 grains/gal)
UV Transmittance (UVT):
75%
Maximum Temperature:
86F (30C)
Maximum Pressure:
125 psi
Options, Accessories and Replacement Parts