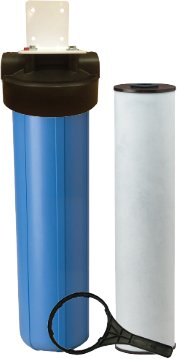 Now Only US $244.95

If your home's water supply has high iron, manganese or hydrogen sulfide content, you should consider the addition of a whole house iron / hydrogen sulfide reduction filter to your water treatment system. This filter contains manganese greensand which reduces these contaminants through an oxidation / filtration process, thereby substantially improving water clarity, taste, and odor, while at the same time protecting your plumbing system including toilets, bath tubs and showers, and appliances such as clothes washers and dishwashers from unsightly staining. It adds no harmful chemicals to the water, making it completely safe for drinking water applications. Iron and manganese reduction will also prolong the life of a reverse osmosis membrane if you have a point-of-use reverse osmosis system in your home. This filter should be installed on the main cold water line after the pressure tank or water meter. For best results, pre-sediment and post-carbon treatment is recommended.

Advantages:


fraction of the cost of competitive iron removal systems
easy to replace cartridge - no media regeneration necessary!
NO backwashing required!
effective over a wide pH range
also removes manganese and hydrogen sulfide (rotten egg smell)
does not add harmful bi-products to your drinking water
prevents staining of laundry and plumbing system including you shower and tub
relatively long filter life - cost effective long-term operation
simple installation
small size (only about 8 inches by 24 inches!) - save valuable floor space!
will not harm your septic system
radial flow design for high flow rates and extremely low pressure drop

Application: This system should be employed as a whole house application where low to moderate ferrous (dissolved) iron, manganese, or hydrogen sulfide contamination is known or expected. This filter will also remove ferric iron through mechanical filtration, although a sediment filter may be a more cost effective choice. This filter is most effective where iron contamination level is less than 3 ppm (and no greater than 5 ppm) or the hydrogen sulfide level is less than about 2 ppm. While the filter will indeed remove these contaminants when these levels are exceeded, the filter life expectancy may be shortened significantly, and contaminant removal may be incomplete. If a combination of iron, manganese, and hydrogen sulfide are present, you must consider the "iron equivalent" level when determining if this filter will work effectively in your circumstance (see below). Best contaminant removal rates are achieved where the pH is 7.0 or higher for iron and hydrogen sulfide reduction (8.0 for manganese reduction). This filter is not recommended where pH levels are less than 6.9. For pH levels ranging from 6.5 to 6.9, we strongly recommend the WH6 - KDF85 media iron filter. The WH6 is also recommended for manganese reduction where pH is less than 8.0.
The life of the filter depends on the contamination level ("iron equivalent") and amount of water consumed on a daily basis. You can get a good idea of how long a filter will last in your case by using the chart below.
"Iron Equivalent" is calculated as follows: (Iron level) + (2 x Manganese level) + (3 x Hydrogen sulfide level)
If your level of Hydrogen sulfide is unknown (it is hard to accurately test for) and you have a noticeable "rotten egg" odor, assume a Hydrogen sulfide level of 0.5 ppm. If the rotten egg odor is severe, assume a level of 1.0 ppm.
Example: Test results are 0.8 ppm iron, 0.2 ppm manganese, and you have a rotten egg smell in your water.
Iron Equivalent = (0.8) + ( 2 x 0.2) + (3 x 0.5) = 2.7
Approximate Life of Filter Cartridge

Iron Equivalent Level in Water
Total Gallons
Water Used
250 GPD
(four people)
125 GPD
(two people)
75 GPD
(one person)
&nbsp
&nbsp
&nbsp
&nbsp
&nbsp
5 ppm
16,000 gal
64 days
128 days
256 days
4 ppm
20,000 gal
80 days
160 days
320 days
3 ppm
26,000 gal
104 days
208 days
416 days
2 ppm
40,000 gal
160 days
320 days
640 days
1 ppm
80,000 gal
320 days
640 days
1280 days
0.5 ppm
160,000 gal
640 days
1280 days
n/a
*Test results provided by cartridge manufacturer (for WH5+ model with carbon post-filter)
What types of contaminants are you dealing with?

| | |
| --- | --- |
| Problem | Likely Cause |
| rusty red or brown staining of fixtures or laundry and/or your water has a metallic taste | excess iron |
| black staining of fixtures or laundry | excess manganese |
| rotten egg smell from water | Hydrogen sulfide (H2S) |
How it Works: Soluble iron (ferrous) and manganese are oxidized and precipitated by contact with higher oxides of manganese on the greensand granules. The hydrogen sulfide is reduced by oxidation to an insoluble sulfur precipitate. The precipitates are then filtered. Ferric iron is removed by mechanical filtration.
Specifications & Operating Conditions:
Housing Material
Polypropylene
Location of Manufacture
USA
Maximum Recommended Flow Rate
6 Gallons Per Minute (23 LPM)
Recommended Operating Temp. Range:
40-100°F (4.4 to 37°C)
Recommended pH level:
7.0 or higher for iron and hydrogen sulfide reduction,
8.0 or higher for manganese reduction
Maximum Recommended "Iron Equivalent":
5 ppm (mg/l) - see above
WH5 Series Iron /Hydrogen Sulfide Reduction Filter Installation Manuals:


Recommended Pre-filter: While not essential, the installation of a sediment pre-filter in advance of the WH5 iron / hydrogen sulfide reduction filter system will extend the life of the iron reduction cartridge by preventing sediments and oxidized iron particles (ferric iron) from clogging the filter before its capacity is reached. Our WH1, WH1-HF,WH1B+, or WH1B+-HF whole house sediment filter packages are excellent choices as a pre-filter. You can read more about these products by visiting our Whole House Water Filter products page.
Customer Testimonials:
I [just wanted] to let you know we purchased filters from you when we moved again into a house with well water and couldn't stand the rotten egg smell. Your filters worked miracles with that & I thank you for such an awesome product! - Paula Kennedy
At our old house, we used an expensive iron filter system. We recently moved into a new home and found that our well once again had high iron levels. I was skeptical to try your product since it cost so much less than most other systems on the market. I am sure glad I did! Not only has it saved me a great deal of money and maintenance hassle, it really does work! Forgive me for being so surprised, but I am truly impressed. Thank you! - Jason Harris
We had a very embarrassing problem with a rotten egg odor in our water because of hydrogen sulphide. It smelled like a sewer. My wife and I were embarrassed to have friends and family over to our brand new house for fear that they would turn on a faucet and catch the stench of our water. We installed your WH5 filter system about 4 months ago and wow! What a difference! The smell was completely eliminated from the second we installed the filter and our water even tastes better too. - Bud Hardesty
I would just like to thank you for your recommendation of the iron filter for my iron and sulfide problem. As you may recall I previously had tried to treat the odor problem of my water with carbon filters at the recommendation of a water specialist in my town. While the carbon filters did reduce the odor somewhat, they would only last a few days and then the odor would return. They did not improve the iron stains on my tub at all. The replacement carbon filters were expensive since they needed to be changed so often. I have now been using your unit for just over 4 months and I am still using the original filter! Best of all, not only is the smell gone but the iron stains are gone too. - Tracy Goldman
The iron filter works very well, what a difference in my water, many thanks to your company. - Gradimir (received by email)
Several years ago you helped us select an iron filter for our cottage on the Michigan shores of Lake Huron. We still have "crock" wells... very primitive, and we LOVE our iron filter. It is the envy of the neighborhood. We use more than one filter per season and this is a part time residence, so you see we truly have an iron problem. Without the filter, our water is the color of iced tea and the shower curtain was completely orange and ruined after only one shower! Now we enjoy a clean toilet bowl, clear dish water, and pleasant showers. THANKS!!! - D. Trubiro)
I recently bought and installed your WH5B Iron/ Hydrogn Sulfide filter, with sediment prefilter, on the water supply at my beach house at Edisto Island, SC. We are on a community water system here, and our water had recently gone from being just unpleasant, to being absolutely awful. The smell and the taste were unbearable, and the color was iron (rust) orange. Anything white that we washed came out this same orange color. Installing your water filter unit has completely change the quality of our water. The odor, bad taste, and rust color are all gone. White cloths going into the washer, actually come out of the washer white. AND, we can now actually make coffee with the community water instead of the bottled water we were using. In addition to getting the improved water quality, I was very surprised, and pleased to see how small the pressure drop across the filter was. Your technical data said it would only be a couple of psi, but I didn't delieve it. It's true. - D. King)
Iron Filter Packages
We are pleased to offer several WH5 whole house iron /hydrogen sulfide reduction filter packages to suit your individual needs. Each package contains a heavy duty Big Blue 20 inch filter housing with pressure relief button, a sturdy mounting bracket, at least one of our iron / hydrogen sulfide reduction filter cartridges, and a handy spanner wrench that makes filter changes as simple as possible. The filter cartridge should be replaced as required and in accordance with the manufacturer's specifications for optimal performance (generally every 4-9 months depending on contamination level and the amount of water your household consumes). To maximize the life and effectiveness of our WH5 packages, we recommend that you use either our WH1 or WH1B+ series whole house 10 micron sediment filter package as a pre-filter to reduce sediment and particles that could pre-maturely clog your more expensive iron filter, or you can select our WH5B package which includes a high quality dual gradient sediment pre-filter at a reduced package price.
Our WH5 package includes our basic iron reduction filter package complete with housing, mounting bracket, filter, and spanner wrench. Our premium WH5+ package features a radial flow carbon post filter which removes organic iron as well as fine oxidized particles that may escape the primary iron filter, thereby enhancing iron and hydrogen sulfide reduction (rotten egg odor) while at the same time removing a wide range of other organic contaminants responsible for bad tastes and odors.




WH5 Iron / Hydrogen Sulfide Reduction Filter Package



Includes:

• 1 heavy-duty Big Blue 20" filter housing (1" NPT)

• 1 stainless steel mounting bracket and related screws

• 1 radial flow iron reduction filter cartridge

• 1 spanner wrench

US$244.95
+ $14.95 shipping

---


Order WH5 with an extra iron reduction filter cartridge - save!

US$349.95
+ $19.95 shipping

WH5B Iron / Hydrogen Sulfide Reduction Filter Package w/ Sediment Pre-Filter



All the features of our standard WH5 iron reduction filter with the added benefit of a sediment pre-filter to remove fine sediments, debris, and oxidized ferric iron particles which could prematurely clog the iron filter. Extends the life of your primary iron filter!

Includes:

• 2 heavy-duty Big Blue 20" filter housings (1" NPT)

• 1 mounting bracket and related screws and housing coupler hardware

• 1 dual-gradient 5 micron sediment pre-filter cartridge
(Pentek DGD-5005-20)

• 1 radial flow iron reduction filter cartridge

• 1 spanner wrench

US$349.95
+ $19.95 shipping

WH5+ Iron / Hydrogen Sulfide Reduction Filter Package
w/ Carbon Post Filter



All the features of our standard WH5 iron reduction filter with the added benefit of a radial flow carbon post filter which enhances iron and hydrogen sulfide reduction (rotten egg odor), while removing a wide range of other organic contaminants responsible for bad tastes and odors.

Includes:

• 2 heavy-duty Big Blue 20" filter housings (1" NPT)

• 1 mounting bracket and related screws and housing coupler hardware

• 1 radial flow iron reduction filter cartridge

• 1 radial flow carbon post-filter cartridge

• 1 spanner wrench

US$399.95
+ $24.95 shipping