Viqua Tannin Resin MIN-IRA958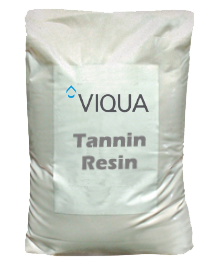 Viqua
Tannin Resin MIN-IRA958
MSRP:

US

$442.50
Starting at: US$
269.95
Choose Option:
Bulk quantity discounts available. For bulk
quantities, please call 1-866-376-2690 for price quote.


(0 Reviews)
Be the first to write a review.
Found a Lower Price?
Request a Price Beat
highly effective anion exchange resin for the removal of tannins and organics
Viqua Tannin Resin MIN-IRA958 is a strong base anion resin used to remove tannins and other natural organic matter from surface water.
highly effective removal of tannins and other organic carbons

Viqua Tannin Resin MIN-IRA958 is used in all Viqua brand tannin filters and may be purchased in a cubic foot bag or half cubic foot bag for the purpose of re-bedding an existing Viqua tannin filter.
Operating Conditions / Requirements:
Physical Form:
White opaque spherical beads
Functional Group:
Quaternary ammonium
Regenerant:
Sodium chloride (Salt) - 10%
Rec. Service Flow Rate:
1-5 GPM/ft2
Flow Direction:
Downward Flow
Backwash Flow Rate:
5-6 GPM/ft2
Minimum Bed Depth:
24 Inches
Typical Freeboard:
50%
pH Range:
6 to 11
Maximum water Temperature:
164F
Weight:
45 lbs per Ft3