ClearPlus MicroTurb™ Series Turbidity
Reduction Filters w/ NextSand
highly effective and economical sediment / turbidity / particulate reduction filters with higher flow rates, lower backwash rates, and finer filtration than the competition!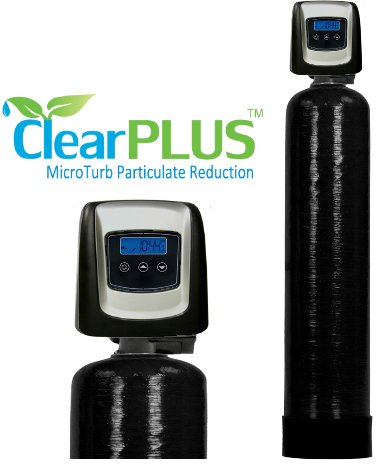 ClearPlus MicroTurb Series particulate reduction filters are designed for convenient, automated turbidity and sediment reduction treatment without the need to replace filters. MicroTurb filters backwash automatically as required to prevent clogging. The backwash is carefully controlled by a digital control valve which comes pre-programmed for your convenience.
All MicroTurb systems utilize NextSand media, the world's most advanced turbidity reduction media. In addition to providing much finer filtration than traditional sand and multi-media filters, NextSand requires less backwash rate and volume, has higher service flow rates for a given volume of media, and it costs less too! It also outperforms FilterAg, FilterAg+, MicroZ, FilterZ and all other turbidity media. Nothing outperforms NextSand!
Very fine filtration (3 to 5 microns nominal filtration possible)
High capacity filtration throughout the entire NextSand bed depth provides more than twice the dirt-holding capacity of multimedia filtration
Superior flow rates 3-4 times that of multimedia
Cost-effective and long-lasting media (>5 years)
Simple, automated periodic backwash keeps the media clean and operating efficiently
Simple operation with no day-to-day maintenance
Brand-name digital control valve (Fleck 5800SXT) with simple programming and operation
Great warranty (5 years on control valve, 10 years on tank)
Stainless steel bypass included
All MicroTurb systems are optimally designed to ensure that you can achieve the peak performance out of your NextSand media. Sadly, many of our competitors ignore the manufacturer's optimization specifications when they design their systems. Accordingly, their systems do not contain sufficient media to achieve the fine filtration capabilities of NextSand, or they contain too much media relative to the tank size thereby inhibiting the backwash process and causing premature clogging.
Maintenance
MicroTurb Systems are designed to backwash periodically to eject trapped sediment and particulates. Accordingly, the control valve is connected to a drain and the backwash water together with the rejected contaminants are simply discharged to the drain during the backwash process. The backwash is controlled by the Fleck 5800 SXT digital control valve and is generally programmed to occur in the middle of the night (fully adjustable) when you are not likely to be using any water. In a typical residential application, the NextSand media should be replaced approximately every 5 years to maintain optimal performance.
Installation:
We provide a standard stainless steel bypass valve with each system. The bypass valve has female 3/4" or 1" NPT threaded fittings depending on the model selected. If your pipe diameter is different, you can connect to the bypass with simple adapters available at any hardware store.
The MicroTurb system is generally designed to be the first stage of treatment in any water treatment system.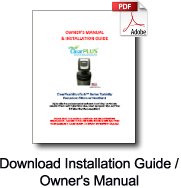 Recommended Operating Conditions:

Max. Water Temp:
37C (100F)

Min. Water Temp:
must not freeze!

Recommended Pressure:
40 to 80 psi
ClearPlus MicroTurb Series Sediment/Turbidity Filters - Whole House Models
Larger models are available for very large homes and commercial applications. Please call toll free at 1-866-376-2690 for assistance.

ClearPlus MicroTurb Series Sediment / Turbidity Filters
Max Flow Rate
Price

MicroTurb 7
4 to 6 GPM

MicroTurb 11
6.5 to 8.7 GPM

MicroTurb 15
9.5 to 12.5 GPM
ClearPlus MicroTurb Series Sediment / Turbidity Filters



We will meet or beat any advertised
price for a comparable backwashable
turbidity filter!

Call toll-free: 1-866-376-2690

MicroTurb 7
MicroTurb 11
MicroTurb 15
Typical Application:
cottage / small house
average house
large house
Maximum Recommended Flow Rate for
Fine Filtration (3 to 5 Microns):
4 to 6 GPM
6.5 to 8.7 GPM
9.5 to 12.5 GPM
Maximum Flow Rate (Peak):
7 GPM
11 GPM
15 GPM
Backwash Flow Rate / Duration:
5 GPM
for 10 minutes
8 GPM
for 10 minutes
12 GPM
for 10 minutes
NextSand Media Volume:
0.8 cu. ft.
1.6 cu. ft.
2.3 cu. ft.
Tank Size:
8 x 44"
10 x 54"
12 x 52"
Control Valve:
Fleck 5800 with SXT Digital Controller
Inlet/Outlet:
3/4" NPT
(1" Optional)
3/4" NPT
(1" Optional)
1" NPT
Included:
- bypass assembly
- instruction manual
Where is it made?:
Control valve, tank, and media are all Made in the U.S.A., and where applicable, are validated to ANSI/NSF Standard 42 or 61 for material requirements so you know they are safe for potable drinking water applications.
Warranty:
5 years on control valve and 10 years on tank
Price:
Switch to CDN pricing
Please Note:
The contaminants or other substances removed by this water treatment device are not necessarily present in your water.