Water Filter Underbed Gravel 1/8 to 1/4 Inch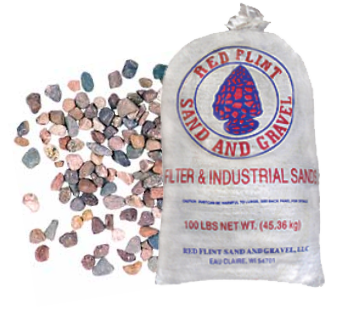 Red Flint
Underbed Gravel 1/8 to 1/4 Inch
Starting at: US$
0.78
Choose Option:
Bulk quantity discounts available. For bulk
quantities, please call 1-866-376-2690 for price quote.

(0 Reviews)
Be the first to write a review.
Found a Lower Price?
Request a Price Beat
NSF-validated underbed gravel for a variety of water filter applications
Red Flint water filter system gravel is composed of sub-angular, hard, durable, and dense grains of predominately siliceous material. Extracted from a clean glacial deposit, Red Flint underbed gravel's physical properties make it among the finest available in the world for water filtration applications. Red Flint water filter gravel is washed, kiln dried, and screened to meet exacting specifications with strict adherence to quality control.
ANSI/NSF 61 approved and meets AWWA Standard B100-09.
Available by the pound or bulk quantities.
Color: yellow/brown/red/grey (mixed)
Shape: sub-angular, fractured
Hardness: 7 - 8 on MOH scale
Bulk Density: 100 lbs per cubic foot
Recommended Volume for Residential
and Light Commercial Applications
Tank
Size:
8 x 44
9 x 48
10 x 54
12 x 52
13 x 54
14 x 65
16 x 65
Typical Gravel Volume
(lbs):
8
to
12
10
to
15
12
to
18
17
to
25
20
to
30
24
to
35
30
to
45