Water Filter to
Remove Hexavalent Chromium-6
water filter to remove chromium-6, a suspected human carcinogen, that has been detected in 31 of 35 major U.S. cities tested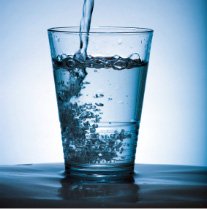 The results of laboratory tests commissioned by Environmental Working Group (EWG) were released in December 2010, indicating that chromium-6 or hexavalent chromium has been detected in the drinking water in 31 major U.S. cities - a staggering 89% of the cities tested. While chromium-6 detection was anticipated in several of the cities, the results were far more widespread than ever imagined. It is estimated by the EWG that at least 74 million Americans in 42 states drink chromium polluted water, much of it in its suspected carcinogenic hexavalent form.
While relatively unknown to most Americans, hexavalent chromium first attracted national attention when it was detected in the water supply of Hinkley, California. A popular movie staring Julia Roberts (2000) was based on the story of Erin Brockovich and her efforts to hold the utility company, Pacific Gas & Electric, responsible for the contamination and illnesses that were believed to have resulted. The case ended with PG&E paying more than $330 million in damages.
A draft toxicological review by the U.S. Environmental Protection Agency (EPA) released in September 2010, concluded that chromium-6 in drinking water is "likely to be carcinogenic to humans." Additional studies have similarly concluded that chromium-6 increases the risk of various stomach and other gastrointestinal tumors in animals and likely humans. At present, the EPA does not have a legal maximum level of chromium-6 that can be in municipal drinking water, nor does it require utilities to test for it separate from other forms of chromium. However, the State of California has proposed a public health goal of 0.06 parts per billion, a level that it feels would substantially reduce cancer risk. The EWG testing revealed that in the 31 cities where detectible levels of chromium-6 were detected, 25 had levels higher than this proposed goal level, and in one case, the results exceeded this level by more than 200 times. The average level detected in all 35 cities tested exceeded the proposed public health goal level by a factor of 3.
Chromium is found in water supplies in several forms. Most water utilities are only required to test for "total chromium" which includes the non-toxic essential mineral trivalent chromium, and of course, the hexavalent form. The concern arises from the fact that utilities are not testing specifically for the potentially dangerous hexavalent form, and the allowable level of "total chromium" is 1,700 times higher than the level proposed as a health goal by the State of California for the hexavalent form. The EWG confirms that this concern is well founded.
What can consumers do to ensure their water is free of chromium?
Rebecca Sutton, a senior scientist with the Environmental Working Group and the lead author of the study, concluded, "Getting a water filter is a great way to protect yourself and your family. It's a step you can take yourself; you don't have to wait for government action." The infrasturcture required to treat chromium-6 on a municipal level takes, in many cases, years to implement, whereas homeowners can acquire relatively inexpensive but very effective treatment systems for their own home and have them installed in a matter a days. At the same time, the same home water filtration equipment will provide protection against other common water contaminants, including pharmaceuticals which have also raised considerable concerns over the past year after being detected on a widespread basis in the U.S. municipal water supply.
Traditional activated carbon filters cannot remove chromium. We strongly recommend the use of an under sink reverse osmsosis (RO) system for chromium reduction. Reverse osmosis offers the highest contaminant reduction rates for chromium of any current residential water treatment technology. Moreover, it also offers excellent protection against other potential contaminants, it is relatively easy to install, and is inexpensive.
The ClearChoice reverse osmosis water filter system featured below offers premium quality drinking water at a fraction of the cost of bottled water and without the hassle of re-filling bottles. Bottled-water quality drinking water will be right at your fingertips anytime you need it, for drinking, cooking, and more. Its compact size makes it a great choice for use in homes, cottages, recreational properties, and RVs!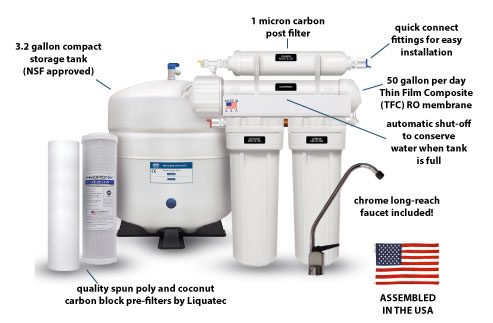 Reverse osmosis, also known as nano or ultra-filtration, is the finest home water treatment system available. It uses the same technology as most commercial bottled water plants (but obviously on a smaller scale). Reverse osmosis systems are capable of removing most sediments and particulates down to less than 0.0005 microns as well as bacteria, viruses, Cryptosporidium, Giardia (Beaver fever), most heavy metals (including chromium-6), asbestos, chlorine, fluoride, and a wide range of volatile organic compounds including many pesticides and herbicides. No home water treatment system offers such wide spectrum contaminant removal.
* Assembled in the USA. Note: system components are manufactured in several countries including the USA, Canada, and Taiwan, and are sourced from reputable suppliers with a commitment to quality and safety, including:
- Storage Tank - Made in Taiwan - NSF certified to standard 58 for material and structural integrity
- Faucet - Made in Taiwan - NSF certified to standard 61 (materials designed for contact with potable water)
The ClearChoice reverse osmosis (RO) drinking water systems provide good clean water at a very economical price. In fact, we challenge anyone to find a better RO system for a comparable price. All ClearChoice reverse osmosis systems include a quality 50 gallon per day Thin Film Composite (TFC) reverse osmosis membrane, sediment pre-filter, both pre and post carbon filters, a clong-reach faucet, automatic shut-off, and a quality 3.2 gallon storage tank. Moreover, ClearChoice is made in the USA* so you know the components and workmanship are of the highest quality.
Like other reverse osmosis systems, The ClearChoice multi-stage reverse osmosis system operates on the principal of osmosis (diffusion) of water through a semi-permeable membrane using ordinary household water line pressure (recommended pressure of 35 to 100 psi - the average residential home has a pressure of about 60 psi) - an optional RO booster pump is recommended if your water pressure is below 35-40 psi. The microscopic pores in the Thin Film Composite membrane (TFC) only allow pure water to pass through to your drinking water. The vast majority of contaminants are too large to pass through the membrane. A continuous self-cleaning process called "crossflow" keeps the RO membrane from fouling pre-maturely by washing contaminants away from the membrane and down the drain. For more information on reverse osmosis technology, CLICK HERE. Operating water temperature range: 40-100F. Operating pH Range: 3.0 to 11.0.
Key Features:
•
premium quality 50 gallon per day Thin Film Composite (TFC) reverse osmosis membrane
•
high performance sediment & carbon pre and post-filters including 10 micron carbon block pre-filter!
•
easy under-sink installation
•
low annual maintenance costs
•
eliminates the cost & hassle of bottled water
•
space-saving compact design
•
our membranes produce roughly 20% more pure water compared to competitors' membranes and perform better at low pressure, without compromising contaminant reduction
•
approx. 0.0005 micron nominal filtration!
•
features automatic shut-off valve when tank is full - doesn't waste water unnecessarily!
•
includes 3.2 gallon storage tank and long-reach faucet
•
can easily be connected to fridge icemaker / water dispenser
Stage 1: Sediment Pre-Filter
Liquatec SDF-25-1005
5 Micron Spun Poly
Replace every 3-6 months
- traps silt/dust, rust and sand that affect the taste and appearance of your water - it also protects the other filters from premature fouling.
Stage 2: Activated Carbon Block Pre-Filter
Liquatec CB-250-975-10
10 Micron Coconut Activated Carbon Block
Replace every 3-6 months
- reduces chlorine (and chlorine bi-products), bad tastes, odors, and most fungicides, pesticides, volatile organic compounds, and more.
Stage 3: Reverse Osmosis Membrane
50 Gallon Per Day Thin Film Composite (TFC)
Replace every 2-3 years
- This is the primary component of the system. The TFC membrane separates up to 99%+ of most remaining unwanted impurities from your water, including bacteria, chlorine, trihalomethanes, E.Coli, giardia, cryptosporidium, nitrates, fluoride, heavy metals, inorganic minerals, and more.
Stage 4: Activated Carbon Post Filter
1 Micron granular activated carbon filter
Replace every 12 months
- enhances clarity and taste of your water to ensure the ultimate level of quality is attained.
Storage Tank
3.2 gallons
Approx. Size: (diameter: 11 inches; height: 15 inches - height includes shut-off valve)
Output / Production
Approximately 50 gallons per day based on average residential water pressure and feed water conditions.
Self-Cleaning
Like all high quality reverse osmosis systems, the ClearChoice RO system uses a process of crossflow to constantly clean the membrane to prevent pre-mature fouling and clogging. ClearChoice RO features a very low waste water ratio of approximately 3:1 while maintaining excellent cross-flow cleaning capabilities.
For more information of the removal/reduction of various contaminants by carbon filtration and reverse osmosis, please CLICK HERE.
This system is designed for use on all chlorinated and non-chlorinated potable water supplies. It is an excellent choice for most homes. If you do not receive your water from a municipal water system (you get your water from a well, lake or other non-treated source), you should have your water tested to ensure it is biologically safe (free of bacteria, viruses, and other harmful microorganisms) before using a reverse osmosis filter as your only water treatment. If your water is biologically contaminated, you should consider a whole-house ultraviolet purifier in addition to your reverse osmosis unit to kill any remaining microorganisms.


Recommended Source Water Parameters:
TDS Level: less than 2000 mg/L
Turbidity: less than 1.0 NTU
Hardness(CaCO3): <350 mg/L
Iron (Fe): <0.1 mg/L
Manganese (Mn): <0.05 mg/L
Hydrogen Sulfide (H2S): 0.00 mg/L
Residual Chlorine: <2.0 mg/L

We are proud to use Filmtec TW30-1812-50 membranes in our ClearChoice RO systems. These membranes are tested an certified by NSF to ANSI/NSF Component Standard 58 for the reduction of turbidity, pentavalent arsenic (on chlorinated water systems), barium, cadmium, trivalent and pentavalent chromium, copper, fluoride, lead, radium 226/228, and selenium.
Approximate Size of System:
Filtration Unit: 14 inches long, 6 inches wide (deep), 16 to 18 inches high depending on position of the post filter
Storage Tank: 11 inches in diameter, 15 inches high including shut-off valve
Available with extra filter pack includes 2 extra sediment filters and two extra carbon pre-filters. Under normal use, this should add all remaining filters required to operate your unit for at least one year. Save on shipping!


The filtration unit and storage tank mount under your sink, out of sight. Water supply is gained by attaching a simple saddle valve to your cold water supply pipe (copper or plastic). You will have to drill a hole in your countertop or sink frame to attach the attractive stainless chrome-plated long-reach faucet. It is a relatively easy do-it-yourself project, or if you prefer, you can have it installed by a handyman or plumber. The unit includes all installation hardware and a complete installation guide.


Our ClearChoice RO water filter system are backed by a 100% 2-year limited parts replacement warranty against manufacturing and workmanship defects, including the housings, storage tank, faucet, fittings, and O-rings (excluding filters), subject to the feed water conditions noted above. Most competitors only offer a 1 year warranty! For health reasons, we do not accept returns of water filters/systems after they have been installed. If you are in doubt as to which filter is best for your needs, please feel free to call us toll free at 1-866-376-2690.


Buy Now!


Price: Only US$199.95
Shipping: $19.95
Buy Now!


Price w/ Extra Filter Pack*: Only US$219.95
Shipping: $19.95
*Extra filter pack includes two extra 5-micron sediment pre-filters and two extra 10 micron carbon block pre-filters. Under normal use, this should add all remaining filters required to operate your unit for at least one year. Save on shipping!
Note: this product is not available in the State of California. CLICK HERE for more information.

Note: The contaminants or other substances removed or reduced by this water treatment device are not necessarily present in your water.