ClearPlus Economy 2-Stage Under Sink Water Filter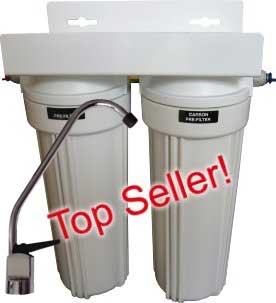 Top seller! - dual stage under-sink drinking water filter featuring Hydronix filter package
The ClearPlus Economy Under Sink Drinking Water Filter offers dual-cartridge filtration in a compact, sleek under-sink design. Don't let this filter's economical price fool you into thinking it compromises quality - it features high quality NSF-validated Hydronix-brand filter cartridges for the removal of sediment, rust particles, chlorine, and a wide range of other contaminants that affect taste and odor. It also features an NSF-validated long-reach chrome faucet. It is an excellent choice for use in homes, offices, cottages, recreational properties, and RVs! This under sink water filter provides excellent quality drinking water with less hassle and cost than bottled water - only pennies per day!
The ClearPlus Economy Under Sink Drinking Water Filter uses our ever-popular Hydronix-brand filter cartridges, renowned for their quality, performance, and unsurpassed value.
Stage 1: Sediment Pre-Filter
Hydronix SDC-25-1005
Type: Spun Polypropylene Sediment Filter
Rating: 5 Microns Nominal
Removes: sediment, silt, dirt, debris, rust particles
Validation: NSF/ANSI Standard 42 for Material Requirements
Stage 2: Activated Cabon Filter
Hydronix CB-25-1010
Type: Activated Carbon Block (Coconut Shell Derived Carbon)
Rating: 10 Microns Nominal
Removes: chlorine, tastes, and odors
Validation: NSF/ANSI Standard 42 for Material Requirements
For more information of the removal/reduction of various contaminants by activated carbon filtration, please CLICK HERE.
The system comes complete with an mounting bracket, attractive NSF-validated lead-free chrome-finished long-reach faucet, a handy filter housing wrench, water line, and all other required installation hardware.
This system is designed for use on all chlorinated and non-chlorinated potable water supplies. It is an excellent choice for most homes. If you do not receive your water from a municipal water system (you get your water from a well, lake or other non-treated source), you should have your water tested to ensure it is microbiologically safe (free of bacteria, viruses, and other harmful microorganisms) before using this filter as your only water treatment. If your water is microbiologically contaminated, you should consider a point-of-use or whole-house ultraviolet purifier in addition to this filter unit to inactivate microorganisms.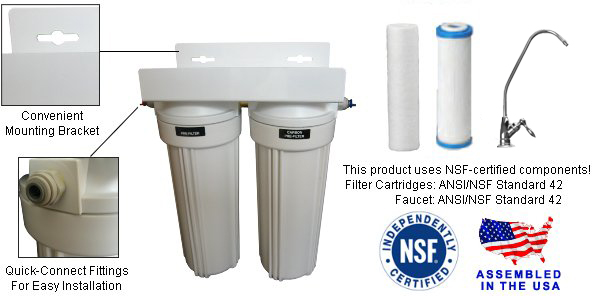 Key Features:

quality ANSI/NSF-certified filter cartridges (standard 42)
quick-connect fittings for easy installation
space-saving compact design
5 micron nominal filtration
reduces dirt, sand, sediment, silt, rust, and scale particles
reduces bad odor and chlorine taste & odor

Operating Specifications:

Temperature: 40-100F (4-38C)
Water Pressure: 30-125 psi
Max. Rec. Turbidity: 5 NTU
Service Flow Rate: 0.6 gallons (2.3 L) per minute
Filter Life: 1,000 gallons (3,785 L) - about 12 months
Dimensions: 9.18 inches x 4.70 inches x 12.72 inches
Weight: approximately 6 lbs.


Installation

The filtration unit mounts under your sink, out of sight. Water supply is gained by attaching a simple assembly to your cold water supply pipe (copper or plastic). You will have to drill a hole in your countertop or sink frame to attach the attractive chrome-finished long-reach faucet. It is a relatively easy do-it-yourself project, or if you prefer, you can have it installed by a handyman or plumber. The unit includes all installation hardware and a complete installation guide.


Warranty:
The ClearPlus Economy Under Sink Drinking Water Filter is covered by a 1-year limited parts replacement warranty against manufacturing and workmanship defects, including the housings, faucet, fittings, and O-rings (excluding filters), subject to the feed water conditions noted above. For health reasons, we do not accept returns of water filters/systems after they have been installed. If you are in doubt as to which filter is best for your needs, please feel free to call us toll free at 1-866-376-2690.
Replacement Filters:
Note: The contaminants or other substances removed or reduced by this water treatment device are not necessarily present in your water.