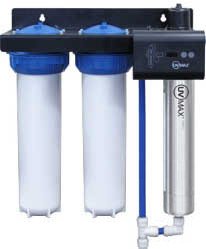 Viqua (Trojan) UVMax Integrated Home System IHS22-E4
The Viqua (Trojan) UVMax IHS22-E4 is a whole house water filtration and disinfection system featuring the popular Viqua (Trojan) UVMax E4 UV sterilizer
The Viqua (Trojan) UVMax IHS22-E4 whole house water treatment system is a compact system offering dual pre-filtrationhousings and UV sterilization in one convenient, easy-to-install package. The system comes completely assembled on a very sturdy custom mounting bracket, thereby reducing installation costs. Please note that this system does not come with the filter cartridges - they need to be purchased separately. The first stage of treatment is normally a high-flow, 20" sediment filter rated at 5 microns. This is usually followed by 1 micron sediment filter or sometimes a high-flow rate activated carbon block filter.
We recommend a maximum flow rate of 16 gallons per minute, which is sufficient for a large home.
The Viqua (Trojan) UVMax IHS22-E4 system features Trojan's very popular Viqua (Trojan) UVMax Model E4 UV sterilizer as the final stage of treatment. Viqua (Trojan) UVMax ultraviolet (UV) water sterilizers are designed specifically to kill harmful microorganisms such as bacteria and viruses in untreated water supplies (well water or private water systems). Ultraviolet (UV) systems are commonly installed by homeowners who have received a positive coliform, E.coli, cryptosporidium, or giardia water test result, as well as those with reason to suspect that they are at higher risk for such contamination, and those seeking to have peace-of-mind that their water is being properly disinfected prior to consumption. The E4 has many convenient features including an elapsed time meter and lamp replacement reminder. For more information on Viqua (Trojan) UVMax E4, CLICK HERE
An optional solenoid emergency shut-off kit is available.


Trojan IHS22-E4 Specifications
Application
larger homes
Maximum Flow Rate
(dose>30mJ/cm2)*
22 GPM (83 LPM)
Maximum Flow Rate
(dose>40mJ/cm2)*
16 GPM (60 LPM)
Audible/Visual Lamp
Failure Alarm
No Tools Maintenance
Constant Current Electronic Power Supply
Handy Reference Card
Lamp Timer Display and Reset
Alarm Mute
UV Intensity Monitor
no
Emergency Solenoid Shut-Off Kit
optional
Flow Restrictor
optional
Water Chamber Material
stainless
steel (316)
UV Sleeve Material
quartz
Inlet/Outlet
1 inch NPT
Electrical
100-240v, 50/60HZ
Max. Current (AMPS)
0.85
Max. Power (watts)
83
Lamp Power (watts)
70
Lamp Length
25.5"
65cm
Control Module Size
8.5 x 6"
22 x 15 cm
* For most residential applications, we recommend a UV dose of at least 40 mJ/cm2. Flow rate recommendations are based on 95% UV transmittance (UVT) and after 9,000 hours of bulb operation.
Feed Water Quality Parameters
Iron
0.3 ppm
(0.3 mg/L)
Hardness
120 ppm
(7 grains/gal)
UV Transmittance (UVT):
75%
Maximum Temperature:
86F (30C)
Maximum Pressure:
125 psi
Options, Accessories and Replacement Parts