Harmsco HUR 90 HP Hurricane Filter Housing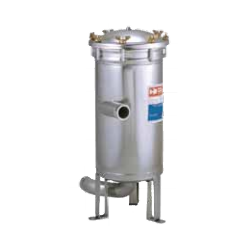 Harmsco
HUR 90 HP Stainless Steel Housing
MSRP:

US

$3320.00
Starting at: US$
1,599.00
Choose Size:


(0 Reviews)
Be the first to write a review.
Found a Lower Price?
Request a Price Beat
Part #:HUR 90 HP
HP housings are the smallest group of housings to employ the use of Harmsco's revolutionary Hurricane technology. This technology promotes a rotational flow for more equal distribution of contaminants across filter media, and, by using a tangential entry, less air becomes trapped in the housing. The HUR 90 HP is the medium size of the HP line and provides a variety of solutions for filtration needs at or below 100 GPM (for most cartridge types). The Hurricane single cartridge design allows for both easier filter changes and increased filter life, thus lowering operation costs. This housing's options allow one to choose between 304 or 316 stainless steel, a CPVC or stainless steel standpipe, and an EPDM, Buna-N or Viton rim gasket for all models.
A chosen housing for whole house filtration, industrial waste water treatment, and ground water remediation (among many other applications), this electropolished line also features a fail-safe closure system and Harmsco's patented upflow design.


wide variety of filter cartridge types
single cartridge design makes for easy filter maintenance
manufactured with a 1" NPT drain
coated option for superior chemical resistance available

Features & Specifications:
Material:
304 Stainless Steel, standard
Cartridges:
7-3/4" x 19-1/2"
Inlet / Outlet:
2" NPT
Temperature Rating:
up to 140F (60C), standard
Maximum Pressure:
150 PSI
Dimensions:
29-7/8" x 13" (759 mm x 330 mm)
Flow Rate:
up to 100 GPM (378 LPM)
O-Ring:
EPDM, standard