Harmsco HMC-36-FL Multi Cartridge Housing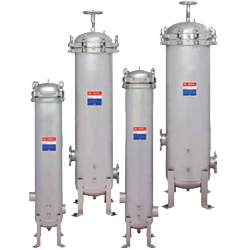 Harmsco
HMC-36-FL Stainless Steel Housing
MSRP:

US

$27926.00
Starting at: US$
13,963.00
Choose Size:


(0 Reviews)
Be the first to write a review.
Found a Lower Price?
Request a Price Beat
Part #:HMC-36-FL
Built to ASME standards, the HMC series offers a wide array of solutions for filtration needs, with the HMC-36-FL being sized for flow rates at or below 1000 GPM. This housing features multiple hold down plates which allows it to use DOE, 222/Fin, and 222/Flat type filter configurations. Options for this housing allow one to choose between 304 or 316 stainless steel and bead blasted or electropolished finish. ASME code u-stamp is also available.
A chosen housing for reverse osmosis prefiltration, high purity water, and ground water under direct influence (among many other applications), the HMC also features two gauge ports and two separate drains (one for incoming fluid, one for outgoing fluid).


wide variety of filter cartridge types
built to ASME standards
designed with two 1" FNPT drains
able to accept 30" cartridges with adjustable top plate upon request
Features & Specifications:
Material:
304 Stainless Steel, standard
Cartridges:
DOE, 222/Fin, or 222/Flat
Inlet / Outlet:
6" Flange
Temperature Rating:
up to 250 F (121 C)
Maximum Pressure:
150 PSI
Dimensions:
76.1" x 27-1/2" (1933 mm x 699 mm)
Flow Rate:
up to 1000 GPM (3785 LPM)
O-Ring:
Buna-N