Ecomix&reg-C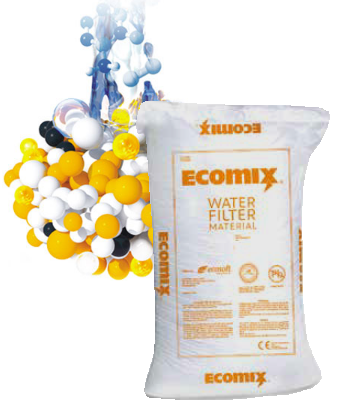 Ecosoft
Ecomix-C
Starting at: US$
149.00
Choose Option:
Bulk quantity discounts available. For bulk
quantities, please call 1-866-376-2690 for price quote.

(0 Reviews)
Be the first to write a review.
Found a Lower Price?
Request a Price Beat
unique multi-media blend designed to simultaneously treat hardness, iron, manganese, and tannins/organics
Ecomix&reg-C is an advanced adsorption and ion-exchange media designed specifically for the concurrent treatment of high levels of hardness, iron, manganese, and tannins/organics. Ecomix&reg can treat much higher levels of iron and manganese than traditional ion-exchange media used for water softening without the risk of fouling while at the same time removing naturally occurring organics that interfere with disinfection and discolor the water.
Ecomix&reg is supplied in bags of carefully proportioned media that will automatically arrange themselves into the 5 treatment layers upon the initiation of the first backwash. This reduces time required to load the media into the treatment tank as the individual layers do not need to be loaded one at a time.
The key to the performance of Ecomix is its unique FerroSorb&reg and HumiSorb&reg layers.
Ecomix&reg-C removes dissolved (ferrous), oxidized (ferric), organic, and colloidal forms of iron as well as manganese through a combination of adsorption, oxidation, active layer formation and autocatalytic oxidation. The maximum raw water iron level is 15 ppm (mg/l) and manganese should not exceed 3 ppm (mg/l).
Ecomix&reg-C removes natural organic matter and tannins primarily through adsorption and anion exchange. The maximum concentration of natural organic matter (total organic carbon) is 17 ppm (mg/l) of which 5 ppm (mg/l) can be tannins.
Water softening is accomplished by cation exchange in exactly the same manner as a traditional water softener.
multi-function capability ideal where hardness, iron, manganese, and organics/tannins are combined - ideal for organic iron problems with or without hardness!
more cost effective than individual treatment options for each contaminant
light-weight, easy to backwash at low flow rates
WQA validated to ANSI/NSF Standards 44, 61, and 372
made in Germany
Operating Conditions / Requirements:
Service Flow Rate:
8-10 GPM/ft2
Flow Direction:
Downward Flow
Backwash Flow Rate:
4-6 GPM/ft2
Typical Freeboard:
40%
Minimum Bed Depth:
20 Inches
Recommended Bed Depth:
30 Inches
Salt Consumption:
6.3 lbs per ft3
Water Consumption per Regeneration:
< 75 gallons per ft3
Recommended pH:
5 to 9
Maximum Hardness:
45 grains per gallon
(770ppm or mg/l)
Maximum Iron:
15 ppm (mg/l)
Maximum Manganese:
3 ppm (mg/l)
Maximum Total Organic Carbon:
17 ppm (mg/l)
Maximum Tannin:
5 ppm (mg/l)
Maximum Ammonium:
4 ppm (mg/l)
Maximum Free Chlorine:
1 ppm (mg/l)
Max. Total Dissolved Solids (TDS):
4,000 ppm (mg/l)
Maximum Hydrogen Sulfide (H2S):
no limit*
* While there is no limit on hydrogen sulfide concentration (rotten egg odor), Ecomix&reg will not remove this contaminant. Additional treatment using catalytic carbon, Filox, Katalox Light or KDF-85 media would be required.
Operation of an Ecomix&reg system is identical to a traditional water softener. Periodic regeneration with salt is required to restore and maintain the treatment capacity of the system. The ion-exchange properties of the media will result in a small increase in the sodium content of the treated water. Individuals who have high blood pressure or those concerned about their sodium intake due to other heath issues, can add a small drinking water reverse osmosis system under their kitchen sink to produce sodium-free drinking water. Ecomix&reg will consume about 6.3 lbs of salt per cubic foot of media in each regeneration. Ecomix has a softening capacity of about 13,000 grain per cubic foot. Sizing is generally based on softening capacity. Ecomix&reg can be configured as single tank systems or in twin-alternating tank configurations for greater salt and water efficiency.
The average media life is 5 years.
Ecomix&reg is manufactured in Germany and is supplied in 25 Liter (0.88 CF) bags and 12 Liter (0.42 CF) half bags.
Recommended Configurations for Residential and Light Commercial Applications
Tank
Size:
9 x 48
10 x 54
12 x 52
13 x 54
14 x 65
16 x 65
Ecomix&reg-C Volume (Bags):
1 bag
1.5 bags
2 bags
2.5 bags
3 bags
4 bags
System Capacity (gains)):
11,500
17,000
23,000
28,500
34,500
46,000
Service Flow Rate (GPM):
4.4
5.5
7.9
9.2
10.7
14.0
Backwash Flow Rate (GPM):
2.0
2.5
4.0
5.0
5.5
7.0
Salt per Regeneration (lbs):
5.5
8.3
11.1
13.9
16.6
22.2
Related Products:
MultiSoft™ Series
Water Softeners w/ Ecomix&reg-C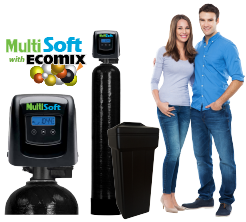 MultiSoft™ Premium Series
Water Softeners w/ Ecomix&reg-C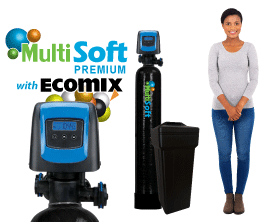 MultiSoft™ Ultimate Series
Water Softeners w/ Ecomix&reg-C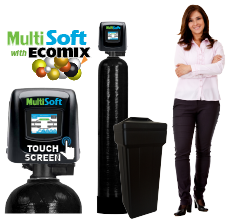 Ecomix&reg, FerroSorb&reg and HumiSorb&reg are registered trademarks of Ecosoft Water Systems GmbH.